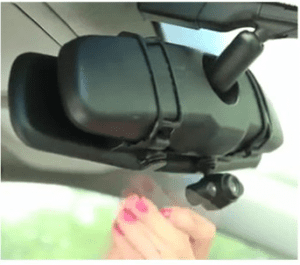 If you are fortunate enough to own one of the newer model vehicles on the road right now, you probably already have some type of camera built in the car or truck to help you with parking, or nowadays they may even help you prevent accidents. For those that do not have a vehicle with a camera built in, the HD Mirror Cam might be something that is the perfect solution to add some security to your drive.
Overview
The HD Mirror Cam instantly turns your rear view mirror into a high quality dash cam. It features a wide angle 720P HD video recorder that is able to record up to 14 hours of high resolution footage. This is a godsend, if for some reason, you get in some type of altercation where having video is the deciding factor in some type of lawsuit, where it is he said she said, and you need this evidence to prove you are in the right.
The Claim
The claim of the HD Mirror Cam is that it will easily and discreetly with the one-step installation, turn your rear view mirror into a fully functional dash cam. With the 350° wide angle lens, motion detection, and night vision mode, you can record up to 14 hrs of high resolution data that you can download onto a memory card or play back instantly on its 2.5 LCD screen.
The Hype
The big thing nowadays is having the protection of video when you are driving and the HD Mirror Cam is great for those people that don't have a camera already built in to their vehicles. If you were unfortunate enough to get into an accident it can be very frustrating sometimes trying to prove who is really at fault. Having this HD Mirror Cam eliminates all the guesswork out of this type of situation as it is able to record both day and night and records of to 14 hours worth of data that you can easily access. The camera is also motion activated, meaning that even if you're not in the car and somebody happens to hit your vehicle, the camera will turn on and catch the would-be runner in flight.
The Cost
At the as seen on TV website you can get the HD Mirror Cam for $49.99 plus $9.99 shipping and handling, but if you buy two or more of these units, you will get the shipping for free.
The Commitment
The commitment with the HD Mirror Cam is that you will receive the unit itself, the car charger, the Micro SD Card, the user Manual as well as the wire clips and rubber bands you need to install the unit in place and it will guarantee to take up to 14 hours worth of high resolution data that you can access any time needed. There is also a 100 % money back guarantee if you are not happy with the product.
Evaluation
The HD Mirror Cam is a great addition to your vehicle, especially if it is an older model and you do not have a dash cam already built in. If you get in some type of accident, having this information at hand will definitely help you when it comes to getting your vehicle fixed and dealing with your insurance company.
Final HD Mirror Cam Review
Upon its final review the HD Mirror Cam gets a thumbs up , as we find anything that increases safety, especially when you're driving, is something that is well worth the money.
Our Recommendation
Another option to check out is the Xtra View Mirror.
What do you think? Does the HD Mirror Cam work or not?