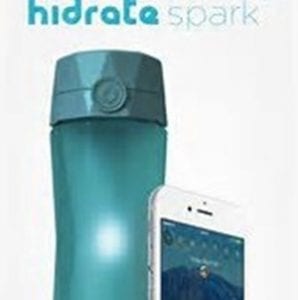 While many people really know the importance of drinking water it is something that many don't do. They are either too busy, or they forget. Or if they do consume this they are not sure how much they have really consumed or whether it is enough. The answer to all of this may with the Hidrate Spark.
Overview
The Hidrate Spark is a water bottle that can track how much water you have drank then transfer this information to a mobile app that you can access on your smart phone.
The Claim
The claims being made about Hidrate Spark is that not only does it track the amount of water you are consuming but that it will glow to let you know its time to take another drink, and it can send you a reminder.
The Hype
The hype around Hidrate Spark really is the technology which is something that everyone is into these days. Plus, for those that are on a fitness regime that includes the consumption of water which most do, then this could be a valuable tool.
The Cost
The Hidrate Spark is not cheap if you view it as just being a cup. It costs $75.99 on Amazon but if you go to the actual Hidrate Spark website you can get it for $55.
The Commitment
If you are drinking water that includes following a regime then you are going to have to commit to using the Hidrate Spark on a daily basis. Then you need to decipher the data it gives you about your water consumption to see if you are reaching your goals.
Evaluation
Many of the reviews have talked about the quality of the different components of the Hidrate Spark which seems to be good quality. What it really comes down to is are you ready to invest this type of money into a cup? Many may say no, but think of the number of thermos coffee cups an individual may buy over the span of a year and this adds up to about the same price. The different is you are really going to have to take proper care of the Hidrate Spark as you don't want to be dropping it or damaging it at that price. You also have to be someone that is into using apps and tracking personal goals. Otherwise you are paying for a basic water cup.
Final Hidrate Spark Review
We are going to give the Hidrate Spark a thumbs up because even though it is very new to the market it has some good merits to it. A lot of people who really want to focus on their water consumption really don't know how much they are drinking in a day. Although many just estimated this from the amount of bottles of water they consume. The other big feature is the reminder to drink which is the biggest downfall of many.
Our Recommendation
If you are into looking at cups that are different and might serve additional purposes then there is a great one for kids when you have to give them medication. It's the Sippy RX.
What do you think? Does Hidrate Spark work or not?