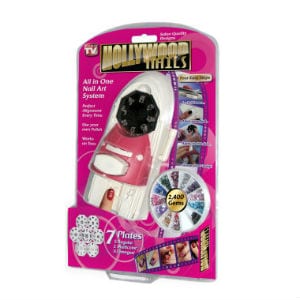 Hollywood Nails is an all-in-one nail art system that promises you'll be able to get fashionable nails more quickly and with less effort. But can a simple kit like this really be all that you need for great looking nails?
Overview
It'd be great to avoid the high cost of going to the salon to get nicely painted designs that attract attention and start conversations. Most of the time, however, this remains a pipe dream because there's a reason why people go to the salon to have their nails done: it flat out looks better and is less hassle than trying to do it at home. The best of both worlds would be getting the same effect but being able to do it reliably and without stress from home.
The Claim
The makers of Hollywood Nails claim that it can provide the right placement so that your nails come out looking even and straight the way they do from a salon. They also say that all you have to do is lock the unit down, align your nail in it, apply your desired polish, and stamp down the plate.
The Hype
The biggest amount of hype when it comes to this set is that nail art is a pretty hot trend, and has withstood the test of time as far as being something that stays fashionable. Also, these days everyone is trying to get the best value for the dollar, and being able to get quality results from an at-home product is very appealing to most people.
The Cost
Hollywood Nails is $34 altogether if you order from their official site. This gets you the entire package including the different design plates, the main unit that houses them, rhinestones for additional bling, and a nail art tool similar to the ones you've seen being used at the salon. You also get instructions on how to use everything. Compared to other at-home nail art kits like this one the price is pretty competitive, and when you compare it to getting your nails done professionally it's the same as or cheaper than a manicure, depending on where you go.
The Commitment
In essence this should reduce your commitment level in many different ways. First, if you're used to doing your own nails already, this should make it quicker and easier and give you more capabilities as far as the amount of sophisticated designs you're able to make. It should also reduce the number of errors you make due to poor placement. If you're one that only gets her nails done in the salon this could open up an at-home door that you thought wasn't available to you and could put some serious savings into your pocket.
Evaluation
HollyWood Nails gets good feedback and there are a few features to it that get brought up again and again. The ability to do both fingernails and toenails is huge. This means you can avoid both having to get a manicure and a pedicure. Also, the designs themselves are often brought up as being the same or similar to the choices you have at the salon. There are lefties out there that have said this was easy to use, so it's nice that literally anyone can use it.
Everyone is going to have their own idea of whether this works great or not, with some users being willing to put in the time required for the cost savings, and others not thinking that it's a good enough deal to have to do it themselves, no matter how easy it is. As long as your expectations are properly set though, you should have no trouble with this, and will find that it's a worthwhile purchase.
Final Hollywood Nails Review
Overall, Hollywood Nails gets our Solid Try rating, as long as you can find it at a good price. It's available both online and in stores, so you can try hunting it down offline or you can go ahead and get it from an online retailer and have it delivered to your door with less hassle. The learning curve on this is pretty short, so you won't have to spend a lot of time acclimating yourself to it, and should be up to speed pretty quickly and doing a tip-top job of it in no time.
Our Recommendation
It can be fun to do your own nails, as long as you take the frustration factor out of it. With a product like this you're getting the assistance that you need in order to pull off pretty detailed designs on your own. You may be limited by the number of plates they give you, but if you're creative and match the designs with your outfits you should have enough to get you through several weeks or more before you have to repeat yourself, and that's with heavy usage.
What do you think? Does Hollywood Nails work or not?