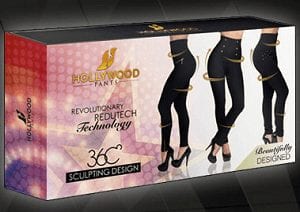 Whenever a piece of clothing comes along that is indicating that it can do something extra to improve your appearance we like to bring it to your attention. Most of us have some part of our lower body that we would like to camouflage a bit, and the Hollywood Pants just might be a solution.
Overview
Hollywood pants are ladies pants that have been uniquely designed with what is being called Redutech Technology. Their main purpose is to hide those muffin tops and give more contour to your body. They have a high waist that allows for this.
The Claim
The promoters of Hollywood pants claims that these pants will slim your waist and shape your butt.They are designed to help camouflage that extra fat around your waist and help to contour your lower body.
The Hype
The hype really lies in the name "Hollywood Pants", it gets you to thinking about all those ladies with the perfect figure that reside there. You can begin to picture yourself looking like this.
The Cost
The cost for the Hollywood Pants is really quite reasonable at $19.99 plus $6.99 for shipping and handling. So even if they only give you a portion of what is said about them then that's not too bad. Be sure to order the right size as they come in various sizes. If you add an extra $9.99 to your order you will get a second pair free.
The Commitment
Most people that tend to be a little chunky stay away from tight fitting clothing. They feel that it only makes them look worse. So it will take getting used to wearing the Hollywood Pants because of their snug fit. It will also take adjustment to wearing a high waist. Once you put them on though it may give you the confidence you need to wear them.
Evaluation
It makes sense that with the proper use of materials that can firmness to different areas of the body that it would help the overall looks. A lot is going to depend on just how much you need to camouflage. While it is important to look good it is also important to feel comfortable in the clothing you are wearing.
Final Hollywood Pants Review
We are going to give the Hollywood Pants a Thumbs up rating. The price is reasonable, and the concept is valid. The design of the pants is done so it addresses the problem areas. The only thing we recommend is that you set your expectations reasonably. If you are dealing with a substantial amount of weight in your lower area then these pants are not going to serve you well.
Our Recommendation
While the Hollywood Pants have been structured to help camouflage those extra thick areas on your lower body, there are some types of attire that have been designed to help shed that extra fat. These are the Hot Shapers. They have received mixed results but more good than bad. A lot of the comments concerning those have been about including exercise at the same time you are using other efforts to lose weight.
What do you think? Does Hollywood Pants work or not?