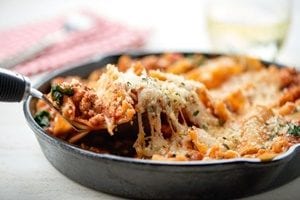 One of the biggest tasks that a lot of families face is having to prepare meals every single day. This includes making breakfast for the family before they head out for the day. The packing of lunches, then the big one which is dinner. Perhaps a service like Home Chef.
Overview
Home Chef is a Meal Delivery Service, but don't confuse this with your fast food type of take out cuisine. This is all about eating healthy without having to spend hours preparing food or standing over a hot stove.
The Claim
The promoters of Home Chef will tell you that using their service is quick and easy and you are probably going to eat healthier because you are basically planning your menu for a set period of time.
The Hype
The hype for Home Chef really is the amazing time saver that it can be. You just have to choose from their menu list then everything you need to prepare that menu selection is sent right to your door. It comes with all the freshest ingredients, and a full set of instructions. This is a big time saver.
The Cost
The Cost for Home Chef is focused on a membership and your average meal cost will be around $9.95 per serving. This can vary depending on which menu you are choosing, and if you are opting for some add ons. There will also be a delivery fee.
The Commitment
Don't think that this is going to be a sit down meal that is delivered to your door. The whole concept here is healthy eating with convenience. You are still going to have to prepare the meal as directed.
Evaluation
The Home Chef service really is an amazing concept. All you have to do is look at just a few of the menu items to realize this. For example, there is the sirloin steak with a white wine demi-glaze. Or the Italian Sausage Lasagna skillet. Can you just imagine what you would be paying for either one of these meals at a restaurant. With the Home Chef you are getting fine dining with minimum fuss right in your own home
Final Home Chef Review
We did some research to see how Home Chef was faring with their customers. Out of 253 reviews 159 gave Home Chef a five star review. Basically the company was rated on its service, value, shipping, returns and quality. For each of these service was given a one star, value a three star, shipping a five star, returns a one star, and quality a three star. Based on this data, and the concept itself, and the reasonable pricing we are prepared to give Home Chef a thumbs up rating.
Our Recommendation
If you just don't have time for shopping or its not your thing to sit down and plan menus then Home Chef is probably something that will really work for you. It could end up being a money saver for you. Meaning you are not as likely to order in fast foods as often, or waste money on shopping for groceries that are geared for quick meals that have no real quality to them.If you are into gourmet foods then as an alternative you may want to check out Freshology.
What do you think? Does Home Chef work or not?