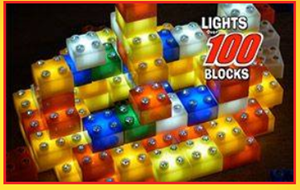 It is gift shopping season and this means paying close attention as to what the kids want this year. There is plenty to choose from but if you want to buy them something a little different without blowing your budget then take a look at the Magic Stacks.
Overview
At first glance it may appear as though Magic Stacks is just another run of the mill building block set. However they do come with a twist in that the blocks light up as they are being stacked.
The Claim
The promoters of Magic Stacks are claiming that the power based that comes with this will light up over 100 of the blocks. They also say the kids are intrigued with the three different light settings that they can use. It also has a 15 minute running feature which operates as a automatic on off.
The Hype
Of course you can guess that the hype really comes with the blocks lighting up that the Magic Stacks offer.
The Cost
For the Magic Stacks you can expect to pay $19.99 plus $6.99 shipping and handling. If you add an extra $6.99 you will get a second set free.
The Commitment
There is no commitment on your part unless you want to spend some time with the kids during their playtime and building activities.
Evaluation
The concept behind the Magic Stacks is a good one. Most youngsters really do love almost any form of building block. They also tend to like anything that lights up. The big drawback that we can see is that just one set of these Magic Stacks is really not going to impress the kids all that much. Unless they already have some other sets of building blocks to which they can add the Magic Stacks to. Then they will love having the light up feature of the Magic Stacks to enhance their collection. The Magic Stacks only comes with 36 blocks which doesn't allow them to do much building. Although, it does come with a guide book which shows how to make some neat smaller projects.
Final Magic Stacks Review
We are going to give the Magic Stacks a Try/Buy rating. Even though they do come with the lighting technology we don't feel that 36 blocks are going to impress the kids. The marketing hype says that the power base will light up over 100 blocks but this isn't clear as to whether it will actually light blocks that are not part of the Magic Tracks. In any event this would mean that you would have to buy a whole lot more blocks. As said this might be a great purchase if you are using it as an add on addition to some block collections that the child may already have.
Our Recommendation
If your youngster is really into the type of toys that light up then you may also want to check out Light Up Links which has some interest to it.
What do you think? Does Magic Stacks work or not?