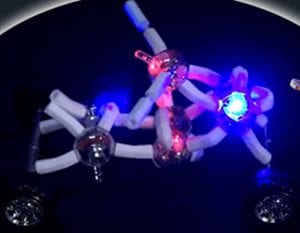 With so many childrens toys on the market today it is hard to choose which they want the most, because they too get caught up in the marketing and hype that makes them so appealing. Is Light Up Links one of those toys that is going to deliver what they promise to your youngster?
Overview
This toy is one that the child receiving it will have to use their imagination with as it is a construction toy similar to building blocks, except it is comprised of links that the young builder puts together to make a variety of toys that will light up via the balls.
The Claim
The Company shows in their marketing material that this product is not gender specific. They show that the pieces are easy for the youngsters to use. They claim the young ones can make all sorts of neat objects from the pieces such as cars for the boys, and bracelets for the girls.
The Hype
Bright colors, lots of pieces and being able to be creative is all the hype that is needed to catch a child's interest, and then when you add to it a glowing effect then you really have created a desire for it. These are all the hype points that the Light Up Links makers focused on. It is enough for the kids to want it and for them to make their parent's aware of it.
The Cost
You can expect to pay $27. which includes the shipping and handling if you take advantage of the TV offer. If you pay out another $7. you will get an extra set. One set includes 125 light up links,13 LED balls,60 flexible tubes,10 piece wheel and axel set,52 connector links,34 glowing connector links. Now if you pay the $7. extra for S&H you get double this.
The Commitment
As the potential buyer of this toy you need to decide if all that it has to offer is going to be enough to hold the recipient's attention over and over again. Otherwise you are paying $27+ for a one or two time use. The youngster's commitment will include being creative enough to want to spend the time putting together nifty toys that they could actually continue to use once built.
Evaluation
There are lots of building toys that you could purchase and many of these have been around for a long time. This is one reason why considering something new such as this product is a wise decision. Products that have been on the market for a long time often lose their appeal to the little ones, simply because they grow tired of them. Lots of times they master the use of these toys and they lose their challenge. This is why manufacturers of children's toys are constantly looking for something new and enticing to offer them. Kids really seem to like things that glow, so this product has met the need there. To confirm this we took a close look at other glow type activities. One that we found that seemed to have some good reviews was the Everest Toys Crazy Forts This is a glow toy where the youngster builds forts that light up. Currently it's getting a 4.3 star rating. Then we checked out a product that also glows that we had reviewed which is the Lumi Doh. It seemed to gather a lot of good attention as well.
Final Light Up Links Review
The Light Up Links really has a lot going for it, so we decided to give it a Thumbs Up rating. When evaluating a youngster's toy there are lots of things to take into account like the many things that we have mentioned here. Overall this toy seems to meet all the demands that most youngsters will put on it. It is reasonably priced when you look at everything that it comes with. It has lots of pieces but isn't over loaded with useless items. It stimulates creativity in both boys and girls. It covers a good age span. Plus, it continues it's appeal and use once they have constructed something that appealed to them.
Our Recommendation
Based on the rating that we decided to give this product, if you are looking for a toy with some merit that is going to appeal to either a boy or girl, then this would be a good choice.
What do you think? Does Light Up Links work or not?