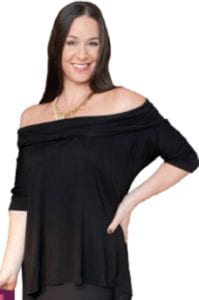 Clothing in general can be difficult but fun to review because it is so versatile and appeals to so many different tastes. Sometimes there are pieces of attire that come along that draws some extra attention, so we wanted to see if the 3 Way Poncho was one of these. See if you agree.
Overview
As soon as you hear the word poncho, depending on your age, it could take you back to your childhood days when this type of clothing was all the rage. Well they do say history repeats itself, but in this case with this particular piece of clothing it may be that it is giving the poncho a whole new perception. This item of clothing really focuses on being versatile because it allows you to create multiple looks with just one single piece of clothing.
The Claim
According to the company this clothing can be worn in many different settings. They state that it is flattering, has a nice fit to it and comes in a range of sizes from petite to plus sizes.
The Hype
It took a little bit of creativity to produce some hype for the 3 Way Poncho. They really couldn't rely on it being designer clothing but they did use a celeb like Suzanne Somers to promote it.  They were smart and built their hype on other compelling factors that would peak the attention of their target market. This was the first approach to determining the target market. These categories would be women who want office attire, those who are really into casual wear, and then those who want something dressy but affordable and easy to wear. This item of clothing has the right appeal for each of these markets. Then they put the icing on the cake by making it a simple piece of clothing to wear, adjust and care for, and in neutral colors that can be worn for any occasion. Finally when it comes to clothing it is priced right if it delivers on all its promises.
The Cost
For an investment of $27. which includes the shipping and handling the 3 Way Poncho can be yours, and for $34. you can receive an extra one which just includes the pricing for shipping and handling for this extra one.
The Commitment
You are going to have to be a little enthusiastic with matching it up with your other attire, and experimenting with it's different looks. You really can have fun doing this, and who knows, it may save you some money by not having to go out and buy some extra clothing just to give your basic wardrobe a change in looks and styles.
Evaluation
Versatile clothing is not new but it is gaining in popularity. Promoters of this type of clothing in the past had some big hurdles to overcome. One of them was is that many women simply do not like wearing the same article of clothing repeatedly. They feel that in order to create a new look each day then it requires different apparel. Now with the cost of living being so high, and clothes becoming so expensive, many women are becoming more open minded about multi use clothing and being creative with their accessories. So based on this the timing is really good for the 3 Way Poncho. To prove whether this concept was valid we took a look at other multi tops like the PattyBoutik Multi-Style top, which is close in price, and has about 30 reviews on it, that contributed to its 4.4 out of 5 star rating. This confirms both the interest and acceptance of this type of clothing.
Final 3 Way Poncho Review
We are pleased to give this clothing item a Thumbs Up rating. First we are convinced that versatility in clothing is being well received. This product meets that requirement when you look at the 3 distinct ways that the product can be worn. A casual look is created with just allowing the clothing to fall into it's natural shape. It is perfect for office by wearing it in a similar fashion but with a skirt or dress pants to complement it. Or simply by sliding it off the shoulder's slightly it changes the way the hem drapes giving it a more dressy look. Then for evening wear sliding one shoulder off now really does create a classy look that could really be enhanced with some of your accessories.
Our Recommendation
We have found during other clothing reviews that a lot of emphasis is put on clothing that compliments the figure, and is a big concern for women who like to look their best. A good example of this is the Cami Shaper. With the 3 Way Poncho you really don't have to be concerned about your figure and the fit of the clothing because of it's loose fit and nice flow.
What do you think? Does the 3 Way Poncho work or not?