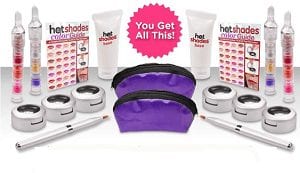 As the warmer weather arrives its the time for cleaning out all the old makeup and starting to replace it with the new trending colors. This can get expensive, and its not always easy to make the right choices. The Hot Shades Kits just might give you more control over your makeup choices.
Overview
Have you ever spent hours trying to find just the right lip color and can never find exactly what you are looking for? With the Hot Shades kits you may no longer have this problem. You are now able to create your lip glosses or matte lipsticks to exactly the color you want. Each kit comes with a clear moisturizing base. Then there are eight lip colors to choose from for blending. You can mix and match the shades to what pleases you in the handy blending pot. If you are not great at knowing color combinations, no need to worry as there is a color guide.
The Claim
The company claims that you can easily develop your lipstick or gloss color to match your attire, or whatever looks good to you at the moment. They say that you can easily mix these colors right at your own home, and it takes no time at all. Now you no longer have to buy tons of different colors to get the ones you want.
The Hype
The company addresses most of the needs and wants when it comes to lipstick and lip gloss. They say it is cosmetic grade so you should be getting quality. It won't causing lip cracking or dryness which is another important point. The biggest hype focuses on being able to get the color you want to wear without having to buy a whole bunch of different shades.
The Cost
For $14.95 plus $4.95 shipping and handling you will get the Hot Shades Kit. Add another $4.95 to it and you will get a second kit free. If you do this then you can expect to receive 2 moisturizing bases, 2 sets of 8 blendable colors, 6 blending pots,2 application brushes,2 carrying cases, and 2 color matching guides.
The Commitment
You are probably going to have to restrain yourself from wanting to play around to see how many different colors you can get with Hot Shades. The mixing process seems easy enough. You are just going to add a few drops of color to the moisturizing base. You can even jazz it up a bit by adding a bit of the gold or silver glitter coloring that comes as part of your color blends. Or, for gloss you just go heavier with the moisturizing base.
Evaluation
We really are entering into a do it yourself world, so it comes as no surprise that many will find a keen interest in being able to have a hands on approach when it comes to the mixing and blending of makeup. Hot Shades has a lot of good advantages to it. It is basically a novelty at this point in time to do this. It is quite possible though, that makeup blending may become the way of the future. It may be that more kits like this will hit the market where you can really customize your looks when it comes to makeup coloring.
Final Hot Shades Review
We're going to give the Hot Shades Kits a thumbs up rating. When you consider the price of what you pay now for a quality tube of lipstick, this product is reasonably priced. Not too many of us use our standard tubes right down to the last bit. After a while we get sick of the color and go onto another one. With this kit you will only be mixing enough for what you really think you are going to use. In this sense it could be a real money saver.
Our Recommendation
You might want to take notes of your exact formula as you are mixing a color. It may turn out that you absolutely love what you have come up with and will want to repeat it again. Without notes you most likely will not be able to duplicate it. The appearance of our lips are really important to us. One big issue that a lot of us have is our lips seem too small. There may be a solution for this called Body Innoventions Lip Explosions. It is worth checking out.
What do you think? Does Hot Shades Kits work or not?