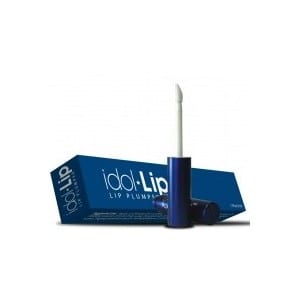 As if there weren't enough lip enhancing aesthetics already available in the market, another rising brand called Idol Lips has come out with their very own lip plumper. It must be a pretty effective formula if the company is willing to compete with other manufacturers who have been around for years and have already made a name for themselves in the world of cosmetics. But, what exactly differentiates Idol Lips from all the other lip plumping items you can find on the shelves of your local drug store? Read along to find out what we've discovered about Idol Lips.
Overview
Pouty lips are attractive, especially on a young female. This is why women accentuate their pair of puckers with the use of lip color or lip gloss, however these products don't necessarily make your lips fuller, which is why ladies resort to other beauty enhancing products and procedures. Lip enhancing products like Idol Lips have become the perfect alternative to permanent lip enhancing treatments such as cosmetic surgery and filler injections simply because it is more affordable and safer to use. There are all types of potential side effects one might experience after going under the knife and you know these aren't problems you'll be experiencing with something you buy online.
The Claim
Idol Lips claim you can obtain "perfectly sexy celebrity lips" within seconds after applying the product. That's quite a bold statement, but who wouldn't feel as confident as a Hollywood star after being guaranteed that? Some of the more famous stars that are known for their lips are Angelina Jolie, Scarlett Johansson, and Rosario Dawson. They keep women reaching for an ideal set of lips, and help this industry stay afloat. It's easy to be tempted into buying a product that promises these sort of results, but you have to keep your expectations under control or you risk setting the bar too high.
The Cost
One month's supply of Idol Lips which is just about one tube sells for $50. If you've decided that you want to give Idol Lips a try, you can only purchase a tube through their official online website. Luckily, there's a current offer being advertised if you wish to buy the product in bulk. Buy two tubes of Idol Lips and get one free, so in essence you'll save about $50. Now, if you buy 3 tubes of this lip plumper, you can receive 3 extra bottles free. That is basically a $150 discount and nets you six tubes altogether, bringing your per tube price down to $25.
The Commitment
Although Idol Lips isn't a permanent fix for a fuller pout, it takes into effect immediately, therefore making the whole process of obtaining luscious lips effortless. Whenever you want your lips to stand out, all you have to do is apply a coat on both the upper and lower lip and watch it do its thing. You can re-apply the product 2-3 times per day if you want to maintain a pair of sexy lips throughout the day.
Evaluation
Before we get into the feedback of those who've given Idol Lips a try, there are key features of this product that must be pointed out:
Idol Lips contains an array of active ingredients that will not only plump up your lips, but also nourish and moisturize it just like any regular lip balm would do. Palmitoyl Oligopeptide is an amino acid responsible for stimulating the swell of the lips, which in turn gives you a fuller pout.
Since our lips do not generate their own moisture, it is essential we find a product that can nourish our lips. Idol Lips contain a number of moisturizing ingredients such as jojoba oil, mango oil, sweet almond oil and shea butter to give you smooth, kissable lips. The contents are all listed on their website in case you have any doubts about the ingredients that make up the product.
There was just enough feedback from consumers to make the conclusion that Idol Lips actually does work. Many noticed significant and immediate results minutes after apply the product on their lips. In order to determine that the product is working, you will feel a slight tingly sensation. This however is often experienced with most lip enhancing products.
The only issue with the product would be its availability. You won't be able to run down to the store to grab a tube in case you run out. Idol Lash is only offered though their website as well as other marketing sites like Amazon. This is probably why it would be a better idea to purchase in bulk rather than just purchasing one tube.
Final Idol Lips Review
We're giving Idol Lash a Thumbs Up, as there were strong indications from users that this does in fact produce the desired results, and is listed at a price that doesn't break the bank if you go long term. They're very straightforward about how it works, what's in it, and why it works, and we like that they offer volume discounts, because they recognize that if you like it you'll probably want to use it long-term, and this way you can actually afford to a little more easily.
Our Recommendation
The product might be a bit pricier than other lip enhancing products, but because consumers were all smiles when mentioning Idol Lips, it seems like every penny spent is worth it. The only thing left is to take the plunge and give it a try to see how you respond to it.
What do you think? Does Idol Lips work or not?