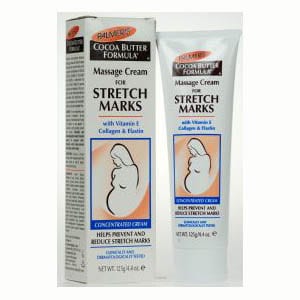 A lot of stretch mark creams use all-natural ingredients, and Palmers Stretch Mark Cream uses cocoa butter as one of its main ingredients. You're probably well aware that many products out there have been deemed ineffective, and can actually yield no results after several months of religious application, so it can be hard navigating the waters and trying to find something that actually works. So is this one you can actually get behind?
Overview
Stretch marks are the bane of existence for many woman, because they're so resilient to treatment, and because they're so noticeable. It's actually a very natural thing to have, but this doesn't seem to make any difference in wanting to get rid of them. One of the prime ways for getting them is from pregnancy, although they can also be had by being overweight and then losing a lot of weight. This is not just a problem for women, as men can get them too, from bulking up in the gym and then losing muscle mass, or also from being obese and losing a lot of weight.
The Claim
Palmers stretch mark cream doesn't make a lot of outlandish claims, in fact they are rather reserved when it comes to touting their product. They are content to simply state what is in it and let you decide if you want to buy it or not. They say that it contains a mix of Cocoa Butter, Vitamin E, Collagen, and Elastin, which are all well known to improve the look and elasticity of the skin. Overall, it seems to be a very healthy addition to your skin care regimen, and something that won't hurt to try.
The Cost
Palmer's is winning in the cost competition. You can get a bottle for under $10 and that should last you through a month of use. They have a wide assortment of different product types, all at different price points, so be sure to see their entire product line to choose the one you like best, or to get a combination of different ones.
The Commitment
This is where you come in. You'll need to be able to stick to a regular routine of applying this as directed, every day, over a long period of time. That's the way you see the best results, and is the number one reason why those that say it works had a positive experience. Many people don't have the wherewithal to stick with something like this over the long term, so they end up giving up too soon, especially if they don't see results in the first week.
Evaluation
Palmers stretch mark cream is something you'd want to rub into your skin, even if it doesn't have any effect on your stretch marks. It's got a lot of good things that will make your skin feel and look better, plus it doesn't have a lot of things you don't want to be rubbing into your skin, like parabens and phtahlates. It's hypoallergenic so you don't need to worry about developing a rash or having an allegic reaction to it, and it's been tested by dermatologists to be on the safe side.
Remember: stretch marks were caused because the structure of your skin changed as it was pushed to its limits trying to contain your belly during pregnancy. It's not something that you can just wave a magic wand over and watch them disappear, unless you get a painful laser procedure done, and even then the results are iffy. You have to take a long term approach to the solution and keep the faith that one day you be free of these scars.
Final Palmers Stretch Mark Cream Review
With the feedback being split right down the middle, we're going to give Palmers stretch mark cream a Thumb Sideways, as it may work for you and it may not. We'd have to say that yes, it can work, but that doesn't mean that it does work, and definitely not all of the time. There's no way to tell if those it didn't work for were using it frequently enough, or if they gave it enough time to work, so it's really hard to determine what kind of result you will get. It's definitely worth a try though, as it contains things that are nourishing for your skin anyway, so no harm in trying.
Our Recommendation
You can use this not only to help prevent, but also to reverse some of the scarring that's already occurred. It will require a big amount of patience, and you might be able to get faster results with other products that are a little more aggressive, but if this isn't a real pressing matter for you, this has been shown to be effective for many users, over a long period of time.

What do you think? Does Palmers Stretch Mark Cream work or not?