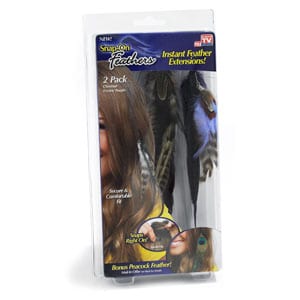 Instant Feather Extensions or Snap on Feathers are a way to get involved with the latest fashion trend, without spending a ton to have them professionally put in. When it's done right, feather extensions look pretty good and are a way to show your playful side for a night out with the girls. It's still got that uniqueness to it, and will catch people's attention while you're out and about.
Overview
There's no telling what will be the next fashion trend, and manufacturers have got to be loving that feather extensions are showing up on the red carpet. This is because these are very cheap to produce, and even at these low prices there is a big profit margin to be had. But it's all about supply and demand, and these are in demand right now. So can you really get in on this trend without spending a ton of money?
The Claim
Instant Feather Extensions says you can capture the same look that you get from a salon without having to go to one. These simply snap into your hair, and unsnap in just a few seconds. They provide the same look as ones that are professionally done, but they give you the option of taking them out when you want to, instead of being braided into your hair. This means that if you want to take them out before you go to bed, or you just wanted to use them for a few hours while you are at the club, they're perfectly designed for that.
The Hype
Feather extensions are making the rounds as a pretty good trend right now, thanks to some of the top female celebrities donning them. Some salons are charging a hefty price in order to get them placed professionally. If you've been wanting to get the same look, without spending salon prices, this is a way to pop them in and out when you need them and look great at the same time.
The Cost
Instant Feather Extensions are not expensive. You can pick them up for $10 plus shipping, so around $20 total. You can also get complete kits from Amazon for less than $10 that let you make your own styles, but they won't have the same easy on/easy off feature as the instant snap-ons.
The Commitment
These go on really easily, so there's not much you have to do to put them on, or take them off. You can wear them for as long as you like, or take them off after just a few hours, it's totally up to you. You will want to spend a bit of time with them at first to make sure you put them on properly, because you don't want them coming off at an inopportune time, but once you have done it a few times it's not hard at all, and only takes a few seconds.
Evaluation
If you've been wanting to try the look of having feather extensions, but didn't want to spend a lot, Instant Feather Extensions is your chance to give it a go without breaking the bank. We like that these are fun and easy to use, and girls of all ages can wear them and have a good time with them in. If you've got younger siblings or nieces then this is something really great that you can bond with, seeing how they probably look up to you as their source of fashion and what to wear.
Be sure to get a pack that has lots of different colors and styles to it so that you can mix and match with whatever you're wearing on a particular day.
Final Instant Feather Extensions Review
Instant Feather Extensions are getting our approval because they're a fun way to spice up any hairdo and can go with lots of different outfits. If you like the styles that you are seeing on TV and in magazines, then you will love being able to replicate it at home in a matter of minutes. It does take a little bit of time to get used to how they work, but after a few attempts you'll have figured it out and be able to easily put them in and take them out.

What do you think? Do Instant Feather Extensions work or not?