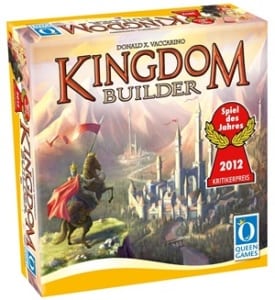 We are just entering into that time of year where its time to start thinking about gift giving. Of course, the kids will provide you with a mile long list of "wants". This means you will be competing against other gift givers and chances are there will be duplicate purchases. To avoid this and still be impressive with the present you give take a look at Kingdom Builder.
Overview
Kingdom Builder is a strategy based board game that the whole family can play. It is interactive based and this creates the appeal for the young ones as well as the adults participating.
The Claim
The promoters claim that not only is Kingdom Builder lots of fun to play but it is easy to learn so you can get down to playing quickly.
The Hype
The hype really focuses around that this is a game that everyone can enjoy. It has the ability to bring the family together for some real fun time.
The Cost
You can expect to pay $30.29 for Kingdom Builder. This is considered to be quite reasonable when compared to the prices of other board games. It should fall into the budget that is set for an average gift.
The Commitment
Anytime you are are going to spend game time with the kids it's going to take a commitment. You want to make sure that the time is set aside without interruptions so you can enjoy the game in its entirety. Then of course, you are going to have to learn the game which is apparently not hard. Then be prepared to lose to the kids because no doubt they will soon master the components of the game.
Evaluation
We always like to support games and family activities that don't revolve around the television or computer games. Game playing should consist of a good mix of different venues. The Kingdom Builder is really getting some great feedback, so this definitely indicates to us that this game is a winner, and won't be a waste of money. The object of the game is for players to collect the most gold throughout the game to be hailed as the winner. As they go through this process they have to focus on building kingdoms.
Final Kingdom Builder Review
Kingdom Builder is an award winning board game. It has such variations to it that no two games played are ever the same. What is really intriguing is the necessity to build kingdoms based on settlements. It gets everybody thinking and encourages them to develop their own strategies. We are going to give the game a Thumbs Up rating. We believe that it makes for a great gift at a reasonable price. Most of the feedback revolves around how easy the game is to learn to play, and how much each age level that plays it seems to enjoy the strategy building segment of it.
Our Recommendation
We have reviewed a lot of toys in the past and included in these has been other types of board games. One that is really popular with the entire family is Pie Face, which you may want to take a look at.
What do you think? Does Kingdom Builder work or not?