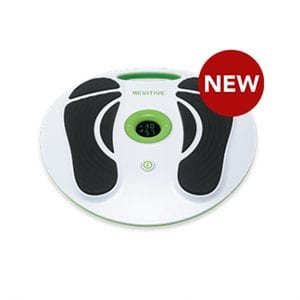 A lot of people suffer with discomfort in their legs and feet. Often the problem is poor circulation and this is particularly true for those who have osteoarthritis or diabetes. A solution to help with this problem may be the Revitive Medic, but what makes it different than other products of a similar nature?
Overview
Revitive Medic is classed as a circulation booster for the feet and legs. It acts similar to a foot massager but has some additional features and functionality to it. It isn't just a matter of putting your feet on the Revitive Medic and letting it do all the work. You have to participate by allowing it to gently rock back and forth which in turn this activity is helping to increase your circulation.
The Claim
The promoters of Revitive Medic claim that it is good for those who have osteoarthritis, diabetes, or are limited in their mobility or are not a person who is very active when it comes to leg use.
The Hype
The hype really focuses on being an external solution for a very common problem. Poor circulation can cause a great deal of discomfort. There are times where health care providers may order prescriptive drugs to help with the discomfort. If this can be relieved without the necessity of ingesting medications then it will certainly be important to a lot of people.
The Cost
Most likely you are perceiving the Revitive Medic to be a glorified foot massager and as such expect it to be in the low price range. It actually sells for $349.99 which is a pretty hefty price. It does come with a two year warranty.
The Commitment
You are going to have to commit to using the Revitive Medic as per their instructions in order to receive the benefits that it is being promoted for.
Evaluation
To begin with as said, the product is meant to increase circulation, and it is also said to help relieve the pain and swelling that can also occur. This unit has 99 intensity levels so it is flexible according to the specific needs of a person. The Iso Rocker encourages movement of the ankle area which helps to limber up stiff joints in this area.It is comprised of a variety of waveforms which helps prevent the muscles from adjusting to one type. It also possesses another type of waveform which is supposed to be more effective when addressing the issues.
Final Revitive Medic Review
This product seems to be more known in the UK where it is being sold on Amazon. It has gotten some good feedback however there was some mention about not using this device if you have a implanted pacemaker. It is also available in Canada as well as it can be ordered through Amazon for the US.
Our Recommendation
As with anything that is promoted to enhance ones health we strongly suggest that you get the approval of your health care provider before using Revitive Medic or any other health related product. If you truly feel that everything about this product could address the discomfort you are having due to poor circulation then we are prepared to give it a Thumbs Up. Based on the cost however we overall give it a Try Buy rating. If you are looking for a cheaper alternative although one that does not have the same feature or concepts you may want to look at the Eelectrofoot.
What do you think? Does Revitive Medic work or not?