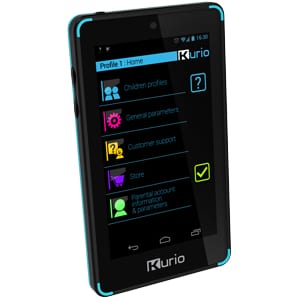 The Kurio Touch 4s is advertised on TV as being the perfect Android device for kids. The price is far lower than competing products from Amazon, Google, and Apple, so can this serve as a suitable product for your child, or are there better options?
Overview
When considering what sort of device to give your child to keep them connected and allow them to have fun there are a few concerns. First, you want to keep them safe from any online predators or inappropriate content. You also want to make sure that they're not using the device so much that they are neglecting the rest of the world around them, including homework, chores, and just being present with the rest of the family. It can be hard to get that all in one device, but that's what's being sold here with this Android compatible gadget.
The Claim
Kurio claims that their Touch 4s is the "ultimate Android handheld for kids". They try to back up this claim by showing that it comes with 30 apps already loaded, and some of them are the more popular apps for kids at this time. They say that kids will be able to do a host of activities on the device, including playing games, listening to music, watching and recording videos, surfing the web safely, messaging friends, and even reading ebooks.
They also say that it comes with advanced parental controls, and that they've already pre-screened millions of websites deemed suitable for kids so that your child can browse around and not feel like there isn't any content to view or find. They say that you'll be able to set the controls to your own parameters, and that you can easily allow more access as your child gets older. They also allow you to set up time limits, as well as time constraints so that your child can only use the device during certain times of the day, and for limited amounts of time each day.
The Hype
There is a lot of hype to the device due to its TV promo video, which speaks directly to kids and trumps up the features as if other Android devices don't have them. This includes showing kids saying that the Kurio Touch is "awesome" and showing the many different ways you can use these.
The Cost
In the TV ads the Kurio Touch 4s is listed as two payments of $50 plus $15 shipping and handling so your first payment will be $65 and the following month a charge of $50 will come off the same card. Your total is $115 to have it delivered to your door. The only problem with this $100 price tag is that you can get the Kurio Touch 7s for $100 at Wal-Mart. It's going to have all the same features as the 4s but with a screen that is 3 inches bigger.
When you compare these prices to competing models the price seems rather good. Consider that a Google Nexus 4 is $200 with twice as much storage, and the iPod touch with a 4 inch screen starts at $229. Of course these devices have been critically reviewed as being high quality and come from long-standing electronics companies like Samsung, LG, and Apple. It is unclear who manufactures Kurio's devices, or how long they've been in the electronics industry.
The Commitment
Once you set up the parental controls, including how long your child is able to use the device, you should be able to hand it over and let them have fun with it. Depending on your child's age and ability level you may have to help them with some of the apps, but in all likelihood they'll catch on quickly and be using it quite easily in no time.
Evaluation
The Kurio Touch 4s does a good job of allowing your child to feel like they have their very own smartphone. This is because it's a similar size to other Android phones and iPhones, and has many of the same features, even front and rear cameras to take self-pictures as well as being used like a normal camera. It doesn't have the capability to make phone calls, so you don't have that to worry about. It only picks up WiFi so you don't have to worry that it's eating up your cell phone minutes.
It would be nice if they allowed you to adjust the parental controls of the Kurio 4s from your own smartphone so that you wouldn't have to take possession of it in order to control what they can do on it. As it stands the parental controls are a nice feature, but keep in mind that there are several highly rated parental control apps in the Android marketplace that can turn any Android device into a kid friendly one.
Final Kurio Touch 4s Review
The Kurio Touch 4s gets mixed reviews from users, with complaints that the battery wears out too quickly, that it's bulky and not very easy to use. On the plus side there are plenty of users that like the experience they've had with it and say it's easy to use and as described in regards to the features it boasts.
Our Recommendation
If you'd rather have the payments broken up into two, the TV offer is the way to go, because you're able to pay half now and the other half next month. If you want to save some money and get a larger screen then the 7s is the way to go.
What do you think? Does Kurio Touch 4s work or not?