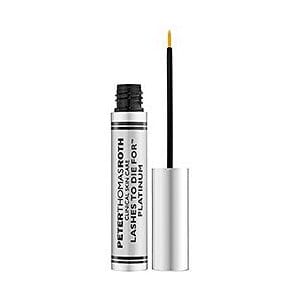 Lashes to Die For Platinum from Peter Thomas Roth is quickly becoming one of the more sought after lash solutions to hit the market. Plenty of companies are vying for the top spot in eyelash enhancers, and the this brand is making a strong case for itself. It's amazing to consider that companies are spending their entire focus on increasing eyelash appearance, but that's just how in demand these products are. So did they really stumble on to something here?
Overview
Sexy lashes do a great job of framing the eyes and can really enhance your overall appearance. They say that the eyes are the windows into the soul, and that would make the eyelashes the curtains on the windows. If you're eyelash-challenged then you are definitely on the hunt for something that can get them looking great, without costing too much, and without being hard to apply and stick with for the long term. It would also be nice to get something that doesn't irritate the eyes, or cause any sort of allergic reaction.
The Claim
Lashes to Die For Platinum claims that by applying their treatment and night your eyelashes will double in length in just two months time. It not only is supposed to make your lashes look longer, thicker, and fuller, it's also designed to give your lashes more of what they need in the form of vitamins and minerals. Not only that but it leaves out a lot of ingredients that other lash treatments put in. Things like sulfates, dyes, and other chemicals that you just don't want to put near your eye.
They claim that in a research study that 100% of the users said they got longer looking lashes, thicker looking lashes, and full looking lashes. These are all aesthetically based, so there's no claim being made that there was actual and true lash growth in these subjects.
The Hype
There are a few things that are causing a stir about this product. First, the price is set so that you really have to contemplate purchase before jumping in. Secondly, eyelashes are getting a lot of attention these days as one of the more eye-catching features of the face. Combine the two together and you have a beauty product that is creating a buzz.
The Cost
Lashes to Die For Platinum are $88 at Amazaon right now, and they say that's marked down from $125, which is in fact what it's going for at Zephora. Amazon is usually pretty good about not coming up with some arbitrary number as the suggested retail price, or making it unusually high so you feel like you're getting a bargain.
The Commitment
By making this a treatment that you just have to use before you go to bed, they make it very easy to incorporate into your nightly regimen, so you don't forget to use it. It's only by maintaining a diligent routine that you will be able to see the sort of results that they're promising in their claims. You forget and missed a treatment, just follow up the next night and don't fret over it too much.
Aside from that you have to resolve yourself to stick with this for at least 6 weeks before you start breaking out the magnifying glass and ruler.
Evaluation
Lashes to Die For Platinum works but it takes a while to see any results. This can put off many users because it's like planting a seed but not seeing any signs of sprouting for weeks and weeks. Finally at week 6 or 7 you might start to notice some gains. However, the human mind is hard-wired for quicker results, and it will take blind faith and determination to see
A Patent Pending Treatment
A patent pending designation means they've filed what's known as a provisional patent. They have one year to file for a full patent, and until then their method is effective from any would-be competitors. This means that they most likely have a unique and novel method to increase the appearance of lashes, and by this time next year should be fully protected and ready for a long stay in the industry.
Final Lashes to Die For Platinum Review
The great thing about using a product like Lashes to Die For Platinum is that sooner or later you're going to run out. If it's working you can always get another bottle and keep things going. If it's not giving you the results you want, when the bottle runs out it's time to try a different option. Luckily most women are saying that this works, but you have to be patient. If you know that you're the A type personality that wants things now, now, now, you might want to pass on this. But if you can put the blinders on and not look for results in the first month – at a minimum – this could be a winner for you.
Our Recommendation
This is definitely worth a trial run. It's been tested by ophthalmologists so it should be safe to use, however you always want to exercise caution when you use any sort of product so close to your eye. No matter how safe a product claims to be you still want to take your time and focus on where you apply it, getting in on your lash and not in your eye, and giving it enough time to dry before heading off to bed.
What do you think? Does Lashes to Die For Platinum work or not?