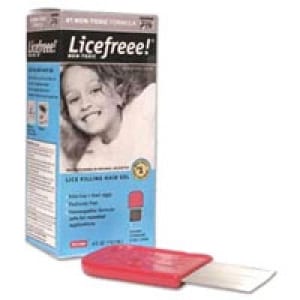 Licefree, often stylized as Licefreee!, is a series of products designed to get rid of head lice. They are billed as the top seller in the industry, so we had to check out if it's worth all of the hoopla.
Overview
If you've been battling lice for some time now, or if this is your first foray into getting rid of it, you're probably noticing that it's not the easiest thing to do, and not all products live up to their claims. Between the products that flat out don't work, and the ones that can be very harsh to the scalp, there is a strong need for a product that is both gentle yet effective.
The Claim
Licefreee claims that their products can finally put an end to your lice woes, and that it's the best-selling brand of anti-lice products in America. They also say that it's non-toxic, which is good for parents that don't want to expose their children to pesticides that are contained in other products and solutions that are on the market.
The Hype
The hype comes from the cooties that are often associated with having lice. You don't want your kid to suffer the trauma of being the one that had bugs crawling in their hair. It's really tough to live down and is something that can stay with you for your entire school life. This creates a strong desire in parents to handle this as quickly as possible, and without causing any harm to their children. Also, if you get to this quickly you'll have a better chance of stopping the spread to other parts of the home and other family members like brothers or sisters.
The Cost
The price of Licefreee varies depending on which kind of product you go with, but overall they're reasonably priced with the average price coming in at around $10. When you compare the cost to other lice products you see that it is priced at about the same level, and maybe even a bit better. You also have to consider that it could save you from having to spend money on products that don't work, and also from products that won't work as quickly.
The Commitment
Some of these products are supposed to be used only a few times as needed, while others are meant to be used as a form of maintenance so that the lice doesn't come back. Either way you go, you are using this as needed, and it does not require daily upkeep once you have gotten rid of the last louse as well as their eggs. Sticking with it long enough to get results is essential, as sometimes it takes perseverance to get to the finish line.
Evaluation
Starting with the shampoo you start to attack the problem right at the source. There's also a comb you can use to filter out the lice from the hair follicles. We suggest using a combination of their products for the best results, especially if you've been having an exceptionally tough time getting rid of them.
We've looked at a lot of products that are aimed at killing off lice and their eggs. What we've noticed is that the best ones are those that combine a safe cure with fast results. This is really the best of both worlds and we've only seen it a few times before. It's a matter of trying out different highly rated products until you find one that does the trick. In this case we're saying that the Licefreee! line-up is worth your consideration, and worth a trial run.
They have a rather extensive answer section for their products, so if you're having any concerns with how to use it, or what it contains, like gluten for example, you can find out the info you need and know exactly how to use it and how it's working. You'll also know what not to do, which is sometimes just as helpful as knowing what to do.
Final Licefreee Review
Licefreee is getting our Thumbs Up rating, as most of the feedback we've gathered on it has been positive, and there's a high likelihood that it will work for you as described. You should peruse their different offerings to see which format would work best for you. They have sprays and combs and gels and each one is designed for different types of hair and different types of problems.
Our Recommendation
Getting rid of lice entails a comprehensive approach, and this includes using products just like these. Consider using a series of products until things return to normal. You'll want to make sure that you eradicate them from the rest of your home, including sheets, pillowcases, couches, sofas, and chairs that are in common areas to prevent a recurrence, and to prevent them from spreading to other members of the house.
What do you think? Does Licefreee work or not?