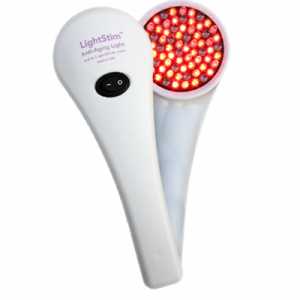 The LightStim wrinkle remover system has been making it onto talk shows like The Doctors. It uses LED light to provide anti-aging benefits, and is claimed to help with collagen production.
Overview
If you've tried creams and lotions to no avail you might be thinking of taking more extreme measures when it comes to getting rid of fine lines and wrinkles, and also bringing your skin back to the way it once was. There are cosmetic surgeries available as well as facial treatments like microdermabrasion and chemical peels, but these all require visits to a local office or clinic and can take days or even weeks to recover from. This leads to a search for another alternative, one that doesn't require extreme measures, can be used in the home, and produces results.
The Claim
They don't make a lot of bold claims, because they use the disclaimer that their product might reduce the size of your pores, and it might increase the amount of moisture your skin retains. They also say it may help repair some of the damage done by the sun, and also smooth up your skin's texture, giving it that youthful glow that you remember. They give a lot of reasons why you'd want to use their system over your other options, saying that it's a non-surgical way to go that doesn't require any downtime and can be used safely by all types of people.
The Hype
Anytime anti-aging systems like these are presented to the public it requires a bit of faith to believe that they will work. There are systems out there that use laser therapy, and infrared beams and claim to be the same type of systems used in high end salons, but it's really hard to prove or disprove this, so you just have to trust in it enough and try it out for yourself if you really want to cut through the hype.
The Cost
The core LightStim unit is $250, and comes with two payment options. You can pay it all at once, or you can opt to try it out first and then make payments, but are subjected to a $15 trial fee. Either way you choose you'll still be protected by a 90 day guarantee. If you opt for the trial you'll need to make up your mind within the first 30 days to avoid being billed your first of five $50 payments.
Acne Light
They make a special lighting system for those with acne, which costs a little more but is supposed to kill the bacteria that causes acne and also help to heal the skin and prevent future breakouts. These lights are blue as well as red, giving it more of a purple hue, intended for teens or those with adult acne to be used daily as part of an overall skin care routine.
The Commitment
For best results you'd want to use this daily as directed, and be sure to stick with it. The skin shows the most progress when you apply a daily beauty regimen to it. They do recommend taking a before picture, and this is something that we agree with and typically advise when using any anti-aging skin care product. The reason is that the brain has a hard time recognizing improvements that happen in small increments. By taking a before picture you are capturing an objective starting point that you can use to make comparisons later with a similarly lit after picture.
Evaluation
With all of the FDA products that get cleared and then recalled, it might not give you very much peace of mind that this product is FDA cleared. However, there are a lot of similar products being sold that haven't taken the extra step of seeking FDA approval, so this should be considered a positive feature. Because they use higher-grade materials, they say that the LED lights in the unit shouldn't need to be replaced. That's pretty impressive, and something you couldn't say about a product that is made overseas.
It's nice that they've made the LightStim corded and not battery powered. Some other models use either a lithium ion battery or standard batteries, but this doesn't provide the sort of charge that's necessary to properly power a device like this. It points to the sort of engineering that is in place here, and shows the type of quality that's here. It's not just a product that is priced high in order to establish value, it's priced the way it is because it costs more to make things the right way.
Final LightStim Review
Even though you might just be finding out about the LightStim system, it's been around for quite some time and has received unbiased positive feedback from those that have tried it. We're giving it a Solid Try rating, as it has a high probability of working for you, but there is always a chance that you won't respond to it. They've taken the steps necessary to make this as risk free as possible, and they've also done their best at bringing a viable anti-aging product to market.
Our Recommendation
If you're going to get this you might want to consider going through the official sales channel. You can find it being sold through other retailers for a little less, but if you buy direct they set you up with a 90 day money back guarantee so if after long-term use you don't like the results you're getting, you can return it with little harm done. This may be one of the higher priced anti-aging gadgets, but they've done their best to put it within reach with the trial offer and multiple payment plan.
What do you think? Does LightStim work or not?