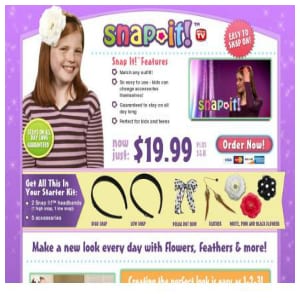 Snap It Headbands say you can make a new look every day with their package of interchangeable headbands and accessories. It's presented as a way for young girls to have fun finding different styles and coordinating with outfits for special events and other times when it's time to dress up or look cute and stylish. But how easy is it really to switch up styles, and will this really provide fun for your kid?
Overview
Headbands can be fun, and can give that added piece that helps to pull off an outfit, but they can also take up a lot of room in your kid's accessories container. That's why it's not very practical to have a lot of them on hand, and this product seems to be trying to get the most bang for your buck by allowing you to swap out different styles, all while using the same headband. Most of the feedback on this has been positive, with most people saying that it gives the same looks as those shown in the promo video.
The Claim
Snap It Headbands are supposed to stay on all day long, and in fact they guarantee it. There's a 30 day guarantee, so you can really hold them to it. There aren't really a lot of other claims made, and it's pretty much just the fun that they're selling here, trying to show that your kid will have fun with it, either with their friends, or with you, and on their own since they say this is something that teens would take part in.
The Hype
Beauty accessories like these are all the rage right now. From feather extensions to different ways of holding up the hair in different hairdos, there's really something for everyone. It's not about finding the one accessory to rule them all, but about having enough options on hand that you don't waste time figuring out what to put on your child. Most of the time these sort of accessories are used for special occasions like parties, but they can also be used just to have fun with.
The Cost
The basic kit is $27, and they also have a bonus kit for $47. The basic kit comes with two headbands and 5 accessories, and the bonus kit has an extra 10 accessories. If you really want to get the most out of this, the bonus kit is the way to go, especially if you've been wanting to try out additional feather extensions and other popular styles. But the basic kit also has some good styles to it, and might be all that you need to get the looks that you want.
The Commitment
The big draw here is that you'll be able to quickly snap in and snap out different styles, switching between two different headbands depending on what you're trying to do. If you're always wondering what sort of accessories to use, or waste time trying to sift through what you have on hand, this might be a quicker and easier way to get your kid looking good. It can also be fun for your child and their friends to accessorize each other and try different looks and poses.
Evaluation
This is just a fun package to have handy when you're looking to make new looks on a daily basis. If you like the looks you see in the TV spot, you'll be able to replicate them at home quite easily. With the dual headbands, one with a high snap and one with a low snap, it makes it easy to put the bows and the feathers right where you want them. With the bonus kit there's really few outfits that you can't match up with, and it gives you a lot of different options.
Final Snap It Headbands Review
There's little doubt that these headbands work, it's a very simple design and they didn't re-invent the wheel here. The real novelty is the different accessories that come with it, and they nailed it. They not only include feather extensions, but the deluxe set has three additional feather styles. As far as cost goes the Snap It Headbands deluxe set gets your cost per accessory down to just over $3 each. The basic set has a per accessory price of $5.40 so if you're looking for more economical accessories the Ultimate pack is the better buy.
Our Recommendation
If this looked like something your kid would enjoy, or a look that you think they'd be cute in, then grab it, you'll likely be happy with your purchase. If you're still on the fence or lukewarm about it then take a pass because the best it's going to do is live up to your expectations. It's not one of those products that's going to change you or your kid's life, but it's something that can be fun for cute pictures and special events.
What do you think? Do Snap It Headbands work or not?