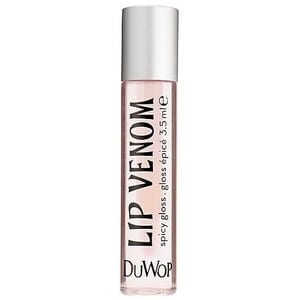 Having full and luscious lips like renowned actress Angelina Jolie isn't nearly as impossible when lip enhancers like Lip Venom by DuWop are available. Who would've thought that applying a simple lip gloss would not only moisturize your lips, but make them plump up too? Said to be the first lip enhancer ever produced in the beauty industry, Lip Venom has opened a new door in the cosmetic world for lip enhancement products.
Overview
One of the most attractive parts of any person's physical appearance are their lips. When you think about it, lips are used for so many things: eating, talking and even pleasurable acts like kissing. When you have a pair of "barely-there" puckers, it can make you feel ugly and unappealing to others, especially if you're a woman. Going under the knife to permanently alter your lips can be incredibly costly, very painful, and even a bit dangerous. Beauty enhancement products like Lip Venom can help insecure women improve the appearance of their lips without having to undergo plastic surgery.
The Claim
Lip Venom is made up of a variety of essential oils that will naturally give you that full pout without any effort. It contains ingredients such as cinnamon, ginger and wintergreen which are known simulants. By swiping some of the gloss on your lips, these ingredients take affect and cause a rush of blood to the area making your lips swell mildly. At the same time, it provides moisture and shine while also bringing out the deep but natural color of your lips.
The Cost
A tube of Lip Venom, which is roughly around 3.5ml of product is available for only $16. There is of course tax that will have to be paid, however shipping is free as long as you're within the US. Shipping usually takes about 5-8 business days, therefore if you would like to get the product earlier, you can pay an extra $13 for the package to arrive within 2 days.
The Commitment
You only have to apply the product when needed, therefore it doesn't have to be smeared on of every waking minute. It doesn't require much time either. Right before you get out of the car or enter a room, just apply a little on your lips and you're good to go. The effects should be felt immediately after application and you'll know this because a tingly sensation should arise after applying it.
Evaluation
If you check out the official website for DuWop, they also carry other beauty products, however Lip Venom is categorized as their best seller. It is stated by the company that Lip Venom does not contain sulphate, dye, triclosan, petro-chemical or fragrance, so you have a bit of an idea as to what exactly is going on your lips.
What People Are Saying
Lip Venom users were very impressed with the packaging of the product, but not so much on the product itself. A good percentage of the feedback received by these users was about how the product didn't live up to its hype. They mentioned that after applying a swab of Lip Venom on their mouth, they could actually feel the tingly sensation on their lips, however nothing happened once the feeling subsided. Some even stated that it wasn't a tingly feeling they felt, but more of a burning and spicy sensation.
Only a small number of consumers stated that they saw the effects of fuller lips, however the results were very short term. Then there was another small group who instead saw plumper lips, but also witnessed skin irritation and rashes.
Not all feedback was negative. There were consumers who were quite happy with Lip Venom that they're even considering trying out the other products that DuWop has to offer. And for some of those who didn't get the results they wanted found that Lip Venom is actually a great lip gloss on its own.
Final Lip Venom Review
It may or may not work for you, and so this is getting our Thumb Sideways review. Because it gets mixed reviews there's some chance that you might like the results you get, but also a strong chance that you won't. Even if you don't get fuller lips, you'll still end up with a well-reviewed lip gloss that gives you a tingly sensation.
Our Recommendation
You won't know for sure until you try it yourself. It's a win-win situation. If you don't get the results you want, at least you have a decent lip gloss to smear on when you forget your lipstick. Since there's no reported negative side effects to using it, it's just something fun to try out, and at this price point you won't be kicking yourself it you don't have lips like Jessica Rabbit when you put it on.

What do you think? Does Lip Venom work or not?