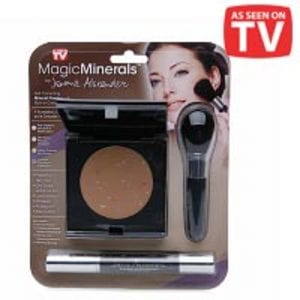 Magic Minerals is a foundation cover-up that is suggested for use by those with light to medium colored complexions. It is designed to cover over acne and other skin imperfections, while not causing any further outbreaks by clogging the pores. We all want to look our best in this image-conscious society, so how well does this work and can a beauty product be effective, and still be reasonably priced?
Overview
If you've tried mineral make-up before and ended up looking orange, or that you're caking your make-up on in order to give yourself a new face, you might be a hesitant to try something like this out again. They insist that this is not the same sort of product, so you don't have to worry about this making you look greasy, or giving you an older look. If you've got a big event coming up or you plan to use this every day, you'll want to make sure that it lives up to what it says and really does give a natural look.
The Claim
When it comes to beauty products, the claims can get pretty outlandish. Magic Minerals manages to keep the over-the-top statements to a minimum, but they do put a lot on the shoulders of Jerome Alexander, whom they tout as an International Beauty Expert with 40 years of cosmetic experience under his belt. Among the claims are that this is an all-in-one product, which makes it very easy to use compared to the kits that have multiple products that you need to apply.
They also say that it's translucent, so you don't need to worry about it looking caked on or fake. They say it's hypoallergenic so if your skin is sensitive or breaks out easily, it shouldn't upset it or irritate it. It also acts as a natural sunblock, and doesn't have any smell to it. It should last you through the entire day, and you don't have to worry about color matching it, as they say it adjust to your skin tone automatically.
The Hype
Most of the hype that this product has received is due to the advertising campaign on TV. Since it's a concealer and not a cure for any ailment, there might be a misunderstanding that this is helping the skin, or that it's somehow beneficial other than a purely aesthetic fix. It should be pointed out that it doesn't necessarily help your skin, even though it doesn't claim to, it might be perceived as being something that will improve your skin or complexion for the long term.
The Cost
It's $20 which includes shipping, and the package includes the Magic Minerals foundation, a brush to apply it, and a mascara as a bonus. Unlike a lot of products that you see for $19.95 they don't pad the order total with shipping charges, and don't charge you extra shipping for the bonuses, so they're actually free. It really seems like they are trying to break the commonly held belief that cosmetics have to be expensive to work, or that cheap make-up means lousy results.
The Commitment
This is designed not so that it doesn't take very long to apply, allowing it be used as part of your daily getting ready routine. If you currently have a system in place with lots of different steps, this will give you some of that time back. It also plays well with other make-up, so that after you apply it as a foundation you can put the finishing touches before you head out.
Evaluation
Sometimes with facial flaws it's easier to just conceal them rather than heal them. It also can be a good strategy to treat the cause and cover up the symptoms until your efforts start to have an effect. For example, if you've got bad acne you might want to use a concealer in conjunction with an acne treatment so that you can have immediate results while your other methods take the time necessary to work.
The feedback on this has been mostly positive, with the majority of users saying that it works as advertised. When you consider that beauty products are notorious for getting moderate reviews, this is pretty impressive. There are big expectations put on cosmetics and the results that users get will typically vary. That's why you're basically going for a product that has a high likelihood of success based on overall user feedback and not just one or two testimonials or reviews, and this passes that test.
Final Magic Minerals Review
Magic Minerals is getting a Solid Try rating from us, as long as you fit the parameters that they recommend. They've done everything in their power to make this an easy decision, and even have a 30 day money back guarantee, and since shipping is free you don't much to lose. For those with a darker complexion you might want to pass, because this only comes in one shade and is not recommended for darker tones. Since it is supposed to adjust to your skin, it can only go so many shades in any direction, making darker shades harder to match.
Our Recommendation
If you've got light skin, or even medium-colored, this is a definite Try as those that have these lighter shades have expressed the most delight with the results they get. It seems that most of the people that don't give it a positive rating are those with complexions that just aren't recommended for it, and therefore get less than desirable results.
What do you think? Do Magic Minerals work or not?