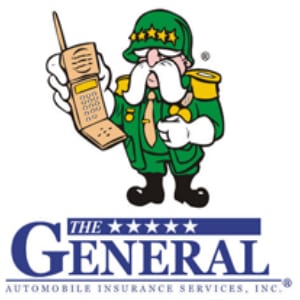 If you're looking for car insurance The General says you can get an anonymous free quote, and even have proof of insurance the same day. Their coverage seems most attractive to those with a less than perfect driving record or other problems like a bad credit score. It's important to have coverage in place at all times, and in many states it's a requirement. So we looked into this to see if you really can get a quote without coughing up your personal details.
Overview
Most auto insurance companies want you to give a wealth of personal information before they give you a quote. By saying you can get a quote anonymously, The General is trying to appeal to those that don't like feeling like they're signing up for something before they even know what it will cost. Of course this is the way these insurance companies secure you as a lead, by getting contact info from you so they can bombard you with emails or phone calls if you don't sign up with them right away.
The Claim
They say that you'll get your car covered instantly and completely online, without giving your name and other personal information. They say that it doesn't matter if you've had coverage lapses, or how old you are, or even if you've gotten tickets or had accidents in the past.
The Hype
They've got their cartoon character, a five star army General, on all of the TV ads, and they run the ad repeatedly in certain markets. This puts them on par with the major insurance companies that run their ads non-stop every day to try to get people to call or go online. They speak right to those that maybe haven't had insurance on their car but are still driving anyway because they assume they can't get covered. They present themselves as a way to get insurance same day, by printing the proof of insurance right from home.
The Cost
The cost of insurance through The General is dependent on too many variables, which is why they ask you some qualifying questions to see what it will run you. If you're worried that you won't know if you're getting a good deal or not, they let you compare their quote with other insurance providers so you don't have to fill out the same data at multiple websites. Even though the ads state that you can get rates as low as $39 a month, this is obviously best case scenario and represents getting the bare minimum on the most eligible car, in certain states.
The Commitment
You're not obligated to stay on with the coverage once you sign on. They break it all down for you as far as what your down payment is, what your monthly payments will be, and what your total premium is. This way you'll have a good idea of whether you'll be able to stay on with it for the foreseeable future. Since it's all handled online it's pretty convenient, and you don't have to wait around for the proof of insurance to come in the mail, or pick it up from some local office.
Evaluation
The General doesn't ask for your name, which is their way of keeping it anonymous. You'll still have to enter in a lot of information in order to generate your quote, and there's not really a way around this, since they can't give you an accurate quote without knowing what they're insuring. The overall feedback from those that have gotten policies from The General is that if you own your car and are just trying to meet the minimum requirements of the state you're in, they are a good deal. Any other situation and the payments have been reported to be higher than other providers.
If you're not in a market that they are licensed for they basically serve as an affiliate for major insurance companies like Geico, Progressive, and esurance. They will send you to the quote page of whichever service you pick, and you'll probably end up having to give more information than you would when you go directly with The General.
Final The General Review
It's not really fair to compare The General to major insurance companies that run nationwide ad campaigns and are after ordinary driving records with pretty much untarnished driving histories. They are going after a different type of driver, those that are labeled more high risk and tend to get taken advantage of when dealing with many of the top providers. Auto insurance quotes should be free, and you shouldn't be forced to give your email or phone number to get them. In this regard, we're giving them the Solid Try rating.
Our Recommendation
It only takes a few minutes to get a quote, so it doesn't hurt to get one, especially if you've gotten turned down by other companies, or if your rates are exceedingly high due to your driving record, accidents, or other reasons. Since they don't require an email address or a phone number to present you with an initial quote, you don't have to worry about getting hounded by aggressive salespeople if you don't like the quote they give you. This shows a bit of confidence in their quotes because they figure they'll be appealing enough so you'll want to take the next step.
What do you think? Does The General work or not?