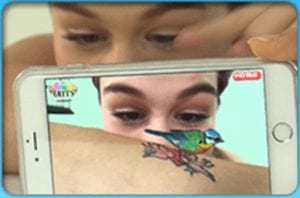 When the kids find out about this one you can bet they are going to want it. It's pretty nifty that they catch watch their tattoos come to life. That is when they use a smart device.
Overview
Basically the Magic Tatts are applied like any other temporary type, but after that the magic begins. It takes downloading an app and the use of a smart device to watch the tattoos go into action with sound effects and all.
The Claim
The company claims that the Magic Tatts are really easy to apply. The kids will love it because the tattoo will last up to a full week.
The Hype
The hype doesn't have to be geared to the kids, because as soon as they see the animation and the sound effects that can be produced from their tattoo to their smart device, that's it they want it. It's the parents that have to be convinced that its an investment worth keeping the kids intrigued for awhile. The reasonable price and ease of use is what the hype does in this regard.
The Cost
Each set is comprised of 24 tattoos, and costs $14.99 with free shipping. There is an action set, or a fantasy set or a combo set. You can get a second set free if you want to pay $10. shipping and handling.
The Commitment
You are probably going to have to commit to restraining the kids from plastering all of these Magic Tatts on their body at once, just so they can see them go into action. It is a fun and creative idea, and you will probably want to buy a few extra sets to maybe give away as gifts.
Evaluation
Children's tattoos have been around for years, and surely will be around for many more. We all know that the kids are just as heavily into electronics. When you combine the two then you have got a sure winner. Now even the adults are into the temporary jewelery tattoos but more as a fashion statement rather than an action motive. This is good fun for the kids and no doubt when their friends see what they've got then they will want them too.
Final Magic Tatts Review
We're going to give the Magic Tatts a thumbs up rating. They are fun and based on something that is been bringing pleasure for many years. It is an interactive concept in that the kids can impress their friends with it. Yet they do need a smart device, but surely there is at least one of these in the house. Of course they will need to download the app. and may need some help with this.
Our Recommendation
You are paying about 63 cents per tattoo. If these last a week and you can contain the kids to using one per week then this is a supper deal. Chances are you will give in though and let them try a few per week. In any event for the amount of fun it looks like it is going to produce it will be well worth the money.
What do you think? Does Magic Tatts work or not?