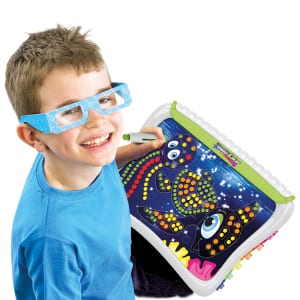 The Magna Color by 3D Magic is a way for your kids to design images using small magnetic dots and then have them jump off the page with 3D glasses. Of course the promo ads for this make it look like a lot of fun, but do kids really like it that much, and does it really perform the way it's shown to?
Overview
This may conjure up memories of a Lite-Brite from the olden days because it involves following a template and adding colorful pieces to a board that eventually will get you a colorful image. Nowadays kids need a little more razzle dazzle if you want to peel them away from being glued to a TV or computer screen, and this is something that would appeal to parents that want to give their kids something artistic and hands-on, so they are using different parts of their brain instead of just vegging out.
The Claim
Magna Color claims you can make 3D creations that "jump off the screen" using magnetic dots. They say you can pop the dots on there one at a time, or that you can use a sweeping motion to create a line of dots that follow in a trail behind the pen. They also say that it is easy to start a new design because you just clear the board with a special included tool and the sorting system puts all the dots back into order.
The Hype
The promotional video for this makes it look like a lot of fun, and with 3D TVs and movies all the rage right now the gimmick of a toy that lets you create 3D images is going to get some hype.
The Cost
The price of Magna Color can vary wildly by where you get it. Some sites have it for as low as $25 and Amazon is listing it at $90. The official site does not sell it directly and only sends you off to other sites that you can order it from.
The Commitment
According to several reports you'll spend a good amount of time getting this toy ready for your child to play with it. This is because the magnetic dots tend to be quite a pain to get sorted and to clean up. If it works like it's shown in the ad you would just be able to set it up once and pass it to your child and they'd play with it for hours on end. But unfortunately that's not what's being said about it.
Evaluation
Magna Color is getting poor reviews from those that try it. Some common complaints are that it is poorly constructed, that the dots are much smaller than depicted in the infomercial, and that it is not as easy to clean up as they show. There are a few people that have said it works just fine and their kids love it, but they are heavily outweighed by the dissenters. Kids can be tough critics when it comes to toys, but when it's parents that are chiming in on how bad it is you should definitely reconsider.
By deciding to include a bunch of small magnetic beads they've made a product that isn't recommended for homes that have small children or pets in them. The beads represent a hazard for those that like to put things in their mouth, and because of their colorful nature they look like a piece of candy to a toddler. Some parents out there think it's only a matter of time before this gets recalled because of this very reason. They say it is for children 4 years and up, so if you have a 4 year old or higher with no pets it might be feasible for you.
Final Magna Color Review
Magna Color is getting our Thumbs Down review, based on the clear feedback from those that have bought and tried it. It is a classic case of a well-filmed infomercial that puts this in its best light and attempts to make up for inherent design flaws in the manufacturing process using clever editing and special effects in the ad. The concept is great, but many times with products like these, what works on paper and what works in real life are worlds apart.
Our Recommendation
We're recommending not to get this and put your money towards something that performs as expected. A lot of kids out there are hard to shop for these days because it seems that no matter what you get them they grow tired of it rather quickly. Especially if it's not the latest video game or cell phone app. So they had the right idea here, adding enough bells and whistles to be able to captivate your child, but ultimately not delivering on the promises made and botching the design phase.
What do you think? Does Magna Color work or not?