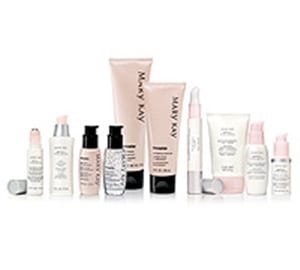 You may be thinking here comes another anti aging skin care regime yet again, but sometimes it pays off not to forget about the "oldies but the goodies". In this case we are referring to the well know brand name Mary Kay, and not this Company's up to date anti aging skin care products.
Overview
The name Mary Kay does not need an introduction or explanation of credibility, but it has grown to be a large beauty care conglomerate over the years, so do the products still live up to the name? Specifically looking at the TimeWise Plus+ line of products geared towards anti aging is what we are taking a close look at today.
The Claim
The Company's website itself promotes 4 specific products within the Mary Kay Anti Aging Skin Care line. They target what they call a "Miracle Set" which is being promoted as being able to deliver dramatic results as it fights the aging process which in turn leads to soft, beautiful, younger looking skin.
The Hype
There are two types of hype that you need to consider when looking at a large brand name collection. First you have to look at the name itself and Mary Kay has long since paid its dues when it comes to getting the brand name known. It is virtually a household name. The efforts that are needed for additional hype when it comes to specific product lines then becomes an easy task because the name and past history of the company says it all. It only needs to zero in on the specific benefits that each product is supposedly able to deliver. In this particular Mary Kay Anti Aging Skin Care line it has aptly covered all of the buzz words for aging skin. These are soft, beautiful and the capability of being able to slow down the inevitable aging of the skin. The key word here for marketing purposes with the TimeWise Plus+ line is anti-aging.
The Cost
There are a lot of single item products being offered within the anti-aging line so it is not feasible to try and narrow down the costs. However,as you are aware the Mary Kay products are sold through representatives, but you can also buy them online at places such as amazon. Here you are going to find a large selection of combinations of the various skin care products that are focusing on the aging problem.
The Commitment
You of course know the commitment you are going to have to make is to use these products as directed. To help with the confusion as to which product is the best to buy if you are specifically targeting an anti-aging problem may entail a little more thought and research. You really need to determine the cause of the problem first. Then if you are able to address this any top quality skin care cream that is formulated to help reverse the effects will be beneficial. There are some product ingredients that are better than others for this type of problem solver. So knowing a little about these ingredients will help. To assist you with your analysis of the best type of products you can check out our other skin care product reviews.
Evaluation
Naturally like most people we are impressed with the evolution of the Mary Kay cosmetic line. To us as researchers of products we always have the concerns whether a company is still flying high on their past performances and are not living up to the expectations of the consumer. We do find that the marketing efforts for these products is top notch. When we looked specifically at the Miracle Set that is being promoted under the anti aging line, we found that this is a term name that is being used for many of their other product combos so it can be a little confusing.
Final Mary Kay Anti Aging Skin Care Review
We have decided on a solid Try/Buy rating for these products that come into the category for anti-aging skin care solutions. We believe that there are comparable products on the market. However, you have to take into account the credibility of the name. In addition to this the Company puts a great deal of time and money into their research as well as their marketing. This is an indicator that they want to get things right and they are not afraid to invest into their products.
Our Recommendation
If you have come to the decision that you are going to give the Mary Kay anti aging skin care products a try then you want to be sure that if you are ordering them by combos or in groups that you do so carefully. It seems that there are specific combinations for specific skin types. Ideally ordering from a knowledgeable Mary Kay representative will most likely afford you the chance to get the right product for you.
What do you think? Does Mary Kay Anti Aging Skin Care work or not?