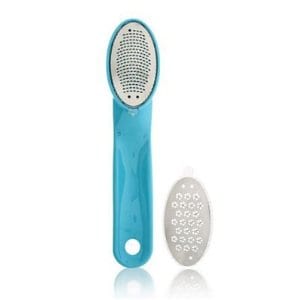 A Microplane foot file is designed to take off rough and calloused skin from your feet. It's one of several different tools you'll need if you're going to do pedicures at home. But is it really all that different than an ordinary foot file, and will it provide the same salon-quality results you'll get from a professional job? We took a closer look.
Overview
If you're trying to do your own pedicure, the right foot file is essential. It's perhaps the part of a pedicure that provides the most dramatic results, as it can turn rough and ragged soles into smooth and touchable feet again. When you combine the results of a good filing session with a quality foot cream, you'll have baby soft feet that feel great to the touch, and look great in sandals.
The Claim
Microplane says that their foot files "zest" your feet similar to the way a zester gets the tough part of the orange skin to come off, but leaves the soft part alone. They claim that it borrows from the patented technology that goes into their food graters, so unlike conventional files it knows what skin to take off, and what to leave on. That's a pretty good idea on their part, and they should be commended for making the mental leap from the kitchen to feet.
The Hype
Microplane has a solid reputation in the kitchen gadget arena, and the quality of their products has a trickle over effect. People expect the same level of performance from their foot products as they do from their food products. This creates a bit of hype, and gives them the edge over other competing foot files.
The Cost
The cost of a MicroPlane foot file is moderate, with models being priced right around $20. When you compare this to the cost of getting a pedicure, you can see that it's a much more economical way to go.
The Commitment
They say that this works with the first use, so you won't have to repeatedly go to town on your feet. Others are reporting that you don't have to put a lot of elbow grease into it, and even light pressure works. So compared to your current method of filing your feet, this should actually represent less commitment on your part. Of course it's more commitment than getting a pedicure, but that's not really an apples to apples comparison. By going the DIY route you know you're taking on more responsibility for the cost savings.
Evaluation
What's cool about Microplane is that they're not really in the foot care business. They make all sorts of tools and utensils, and what they did here was apply their grating technology that they put into graters for the kitchen to their line of foot files. So what you end up getting is a file that doesn't just attack your skin with reckless abandon, but grates off your dead skin, leaving your soft, healthy skin alone.
If you've ever gone too far with an ordinary foot file, you'll know the sort of pain you can experience by taking off more skin from your foot than you intended. It can take a while for those cuts and areas to heal, causing you pain with each step you take and even making you walk with a limp in severe instances. So getting something that doesn't harm your good skin is important, as the feet can be more sensitive than they appear.
They also make an egg shaped file, similar to the Ped Egg. It's really up to you which style you go with, if you want the ergonomic design of the egg shape, or if you want a study handle to hold onto to give you leverage, and also extend your reach. A case can be made for either style so it just a matter of personal preference.
Final Microplane Foot File Review
The verdict is in, and a Microplane foot file gets our nod of approval as a way to successfully get your feet as smooth as can be, without causing tennis elbow from working so hard at it. If you're tired of relentlessly shaving away at your dry skin with other files, give this a try. Consensus says that it's pretty effortless, and since it traps all of the skin that comes off, it doesn't require a lot of clean up afterward.
Our Recommendation
When you want to be pampered, nothing beats a trip to the nail salon for a pedi. However, for most of a us this is an indulgence we can't justify as often as we'd like. For the in between times you need something that will work almost as well, without having to put a lot of effort into it. The Microplane foot file is something that can help you get pretty good results, and will hold you over quite nicely until your next pedicure session.

What do you think? Does the Microplane Foot File work or not?