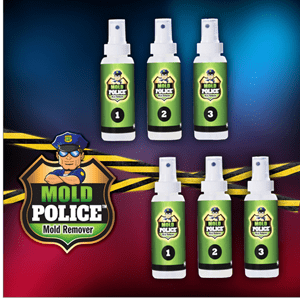 Mold exposure can cause many health issues. Taking care of a mold problem right away with a product like Mold Police can stop it in its tracks.
Overview
Mold Police is a 3 step mold removal system that kills the mold at its roots.
The Claim
The claim to Mold Police is that it completely pulls the mold from the surface it's growing on.
The Hype
The hype about Mold Police is that once the area is treated, the mold will not return to that surface.
The Cost
The cost of the Mold Police System is $19.99 plus $7.99 shipping and handling fees. There is a special offer to receive a 2nd 3 step Mold Police System free with the purchase of one. It also comes with a 30 refundable money-back guarantee. This offer is not available in stores.
The Commitment
The commitment of using Mold Police is first identifying the areas where mold is growing. Then ensure you order enough of the product to treat all the areas. Follow the 3 step process, and you won't have to treat that area again. Always make sure you wear gloves when using this product to avoid harming your skin. Wash your hands immediately after using the Mold Police.
Evaluation
Mold Police is a great product used to destroy mold and prevent it from coming back. German Scientists developed this award-winning safe product. It has won 4 International Innovation Awards, which reflects its quality. It is very easy to use. You simply spray the area with the step 1 solution, let it penetrate the surface, allow for the chemical reaction to take place, then simply wipe it away. This product can be used in the bathroom for removing mold and mildew from the shower grout. It can also be used on window sills that collect moisture and grow mold, and even drywall and plaster. Mold Police kills mold at the root, removes dead mold, and prevents it from returning. The best part is there is no scrubbing involved. Just spray, wait, and wipe clean. It is not recommended to be used on glass.
Final Mold Police Review
We are going to give Mold Police a thumbs up. This product will kill mold on the spot. The formula used to produce this product was based on a product that is used for mold and mildew for commercial buildings. It is packaged in a compact spray bottle. It works on many surfaces such as metal, wood, tile, plaster, and drywall. The mold area only requires one treatment to take care of the problem. Do not use this product on surfaces that humans or animals will eat from as it may still contain residue from the spray. The spray goes on clear avoiding any staining or damage to the area. It will not stain clothing either. The set contains six bottles, enough to use at home, the office, cottage, and even the car. You can save a lot of money by removing mold yourself as opposed to hiring professionals to do this for you.We would highly recommend this award winning product. Mold Police can take care of all your mold problems quickly and easily, without the worry of it returning to the treated area.
Our Recommendation
If you like to do product comparisons then check out Mold Be Gone.
What do you think? Does the Mold Police work or not?