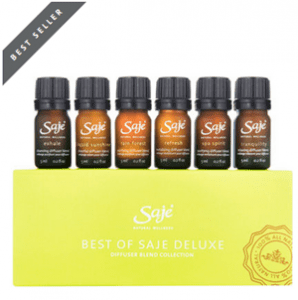 Many people are turning to all-natural wellness products as opposed to using over the counter and prescription medications. Saje has several wellness products that can suit your needs.
Overview
Saje has over 500 natural products that can be used for many everyday health concerns.
The Claim
The claim to using the Saje Products is that this is a holistic wellness line that uses pure and blended essential oils which can make you feel better.
The Hype
The hype about the Saje Products is that they also have a skin care line that is all-natural along with all-natural home cleaning products.
The Cost
The cost of the Saje Products varies depending on which products you choose to buy. Some examples of the cost of the products are: Diffusers Range from 34.95 to 189.95. Blended diffuse oils range from $14.95 to 24.95 each or can be purchased in kits. Therapeutic roll-ons start at $14.95. Hand Creams etc. start at $5.95.There are also varying prices for essential oils mists, skincare products, and Natural Cleaning Products.
The Commitment
The commitment to using the Saje Products is researching all the products that are available and purchasing the ones that would best suit your needs. Sharing information with family and friends about these amazing products would also be a great benefit to them.
Evaluation
Saje Products are simply amazing. So many people can benefit from the use of these essential oils, and plant and mineral-based products. This entire line is environmentally friendly. The ability to remove many toxic filled products from your home will create a safe environment. Saje even makes laundry and dish soap. The list is endless for products required to meet all your needs.
Final Saje Products Review
We are going to give Saje Products a thumbs up. Saje Wellness Product has received a 4.7 out of 5-star overall rating according to the opinion of 1001 people. Reviews have stated that not only are the products amazing, but the overall customer service is excellent. One customer stated her family uses these products at home, at the office, and even in their car. I personally have used the Peppermint Halo Headache Remedy, and it is simply amazing. Not only does it smell good, but it works well and fast to relieve my headaches. I have also used the pain release analgesic remedy for joint and cramping pain. It works great and quickly. Using the diffusers with essential oils for aromatherapy can reduce stress and can help with respiratory issues. These aromatic essential oils enhance both mental and physical health. It has also been shown through scientific studies that aromatherapy can also act as a natural pain reliever.
We would highly recommend the Saje Product Line. All-natural products that work well and are environmentally friendly are the way of the future. More and more people are following holistic remedies for health issues. Purchasing and using toxic filled products are unsafe for people as well as the environment. Saje Products are a great alternative and are very reasonably priced.
Our Recommendation
If you are someone that is into natural products and are dealing with skin conditions such as psoriasis or eczema you may want to take a look at Wild Naturals Eczema Psoriasis Cream.
What do you think? Does Saje Products work or not?