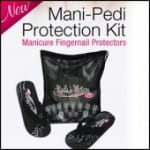 The makers of Nails in Motion hope to keep your nails looking great the day you get them done. We all love the way our nails look the day we get our manicure, but it can also be a stressful time. Trying to keep the nails looking perfect until they are dry can be a challenge. Most times, we either have to get back to work or we have to get other things done that day and can't devote the entire day waiting for our nails to dry.
Overview
When you get your nails done in the salon it's a great feeling, which can turn into devastation when you chip a nail, smear the paint, or muck it up in some other way before they have a chance to dry. Many salons will incorporate a UV lighting system into your treatment to help dry the nails quickly. Also, many of the high-end nail polishes are quick drying and will set before you leave the salon.
The Claim
The premise is as simple as can be: no more waiting for your nails to dry. They're hoping to attract those that have chipped, nicked, smeared, or damaged their nails in any other way the day they get them done. Some of the things that they say they protect against are when you're putting on your jacket when you're leaving the salon, reaching into your handbag, getting into and out of your car, or getting back to work and having to type at your computer.
The Hype
Is this really a problem for enough people to create a product out of? One of the people they show in the testimonial says she has to plan her entire day around her manicure. They also create a villain out of the UV lights used in salons to dry a manicure more quickly, saying that it's dangerous for your fingers. This is a questionable claim, and could've been dreamt up as a way to convince people to buy their product.
The situations it presents in the infomercial are so contrived, that it seems almost ridiculous. One person even says that the Tip Tops make it so she's on time to pick up her daughter from soccer practice. Are we to believe that she picks her daughter up late because she's stuck at the salon waiting for her nails to dry?
The Cost
For $25 plus $7 shipping and handling you get the 10 piece Tip Top kit by Nails in Motion plus a pair of pedicure sandals that don't seem to do anything more than regular flip flops. You also get a carrying case for everything so you can keep it all together.
The Commitment
The way they say you should use it is to put the tips on upside down while you're getting a manicure done and then switch them around once it's finished. Once your nails are dry, you can remove the tips and enjoy your manicured nails free of all blemishes.
Evaluation
The only thing it doesn't show is an explanation of how the tips don't press against the nails causing just as much damage as not wearing them. They also say you can go about your day like normal, except for the fact you look like Edward Scissorhands or Freddy Krueger with them on.
What's even more interesting is that the women shown in the infomercial wearing the Nails in Motion system seem to be moving rather gingerly, as if they can't go about their business as normal. For example, the woman reaching into her purse to get her pocketbook to pay for the manicure is moving very slowly and delicately so she doesn't ruin her nails.
The whole premise is that you don't have to have any concern about your nails because they're protected by the plastic tips. But if you still have to worry about your fingers smashing up against the plastic then there's really no point in putting them on. Just be careful not to hit anything right after you get your manicure and you'll get the same result.
The other instances all show situations where your nails aren't protected by the tips anyway. They show a girl typing on a laptop computer, but the Nails in Motion system won't protect against that. They also show a woman changing the radio station in her car, but the Nails in Motion system won't protect against that either.
Final Nails in Motion Review
The Nails in Motion system is a double whammy. First, the premise is absolutely flimsy, and second, the product itself doesn't actually protect against much. There's nothing protecting the tips of your fingernails and if something hits the outside of your hand it will just mash the Nails in Motion plastic tips into your nails causing just as much damage as if you were not wearing them.
What it does protect against is you getting nail polish on other things, like your clothes or purse. This might provide some benefit but not enough to justify using it.
Our Recommendation
The majority of people out there can safely pass on this product because it is a classic example of trying to exaggerate a need in order to create demand. However, if you found yourself connecting to this infomercial and agree that it takes up your entire day when you get your nails done, then it might be best for you to invest in this and see if it makes an improvement.
What do you think? Does Nails in Motion work or not?