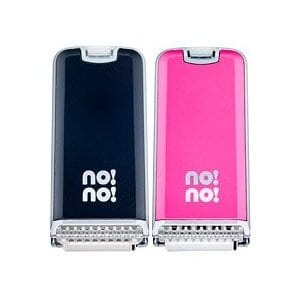 Unwanted body hair is one of the biggest pains for both men and women, and No No Hair Remover hopes to be a solution for both genders. It doesn't matter where the hair grows, if you don't want it there it becomes an aggravating problem that keeps growing back again and again.
Out of all the ways that there are to get rid of hair on the body No No Hair Remover seems very appealing. Watching the infomercial it's hard not to want to at least try it. But does it really work?
Overview
Being mammals we're typically very hairy all over our bodies, except for the bottoms of our feet and the palms of our hands. This means that there is a high chance that there'll be some hair growing on some part of the body that we just don't want. This could be under the nose for women, on the back for men, or anywhere else it's considered unsightly.
Products have been around for a long time that promise to alleviate this problem, including shavers, pluckers, at-home laser treatments, waxing treatments, depilatory creams, and all sorts of gadgets and ointments that promise to leave the body smooth and hair free. But the problem is that most of them don't work, and end up getting tossed out, or collecting dust in the junk drawer. This leaves it wide open for a company to come along with the real solution.
The Claim
No No hair remover claims to use a new technology that heats up the hair, instantly removing it, but also making it so that the follicles don't regrow their hair as quickly as they did. This not only takes care of the problem of having hair now, but it also reduces the amount of hair you have going forward.
This is what makes the product so inviting. It speaks to people on two different levels, promising not only to get rid of the current problem, but also making the problem lessen with each consecutive use.
No No says that you can get a salon quality hair removal process from the comfort of your home using the same sort of technology. Their major claims are that you'll have no hair, there'll be no pain, there won't be any ingrown hairs, it doesn't use chemicals, it doesn't make a mess, and it won't stress you out during the application process.
This is a very attractive promise because salon treatments can cost hundreds of dollars, and you have to go back for more treatments because of the multi step process. Because No No knows that the alternative is much more expensive, they've priced their unit so that it's not exactly cheap, but you can justify the purchase comparing it to your other options.
The Hype
The hype comes from the infomercials, and the interview-style way that they have a group of women standing in a circle all saying that it works and lavishing praise on it. It's all self-hype, and ubiquitous advertising. They didn't spare any expense on the advertising, usually opting for the 30 minute long segment that plays more like a talk show then a commercial.
The Cost
For the price of the No No hair removal system it had better work according to the way it's shown to in the commercials. If you order from their official website you can expect to pay $250 for the latest model. If you order from Amazon, you can get it for $190 and shipping is free using their supersaver shipping method. For something that has overwhelmingly bad reviews, it's amazing that they still sell it at this price point. It seems that they're relying on their high quality advertising to push a low-quality product to new and unsuspecting customers.
The Commitment
For many of us, unwanted body hair is just a mild complaint. In order to successfully use the No No hair removal system you have to view this hair with a bit of disdain. In order to stick with a regimen, and go through enough application processes to remove the hair permanently, or at least reduce it to a manageable amount, you have to be dedicated.
Aside from that, No No should actually reduce your commitment to getting rid of your body hair for the long-term. The promise is that at some point you won't have to worry about your hair anymore because you won't have it. You have to maintain the results with No No, but the time you spend fussing over hair growing in the wrong place will be reduced to a minimum.
Evaluation
The feedback that has come in from actual users of the No No hair removal system is not very comforting. In fact, many people say it doesn't work at all, and it definitely doesn't work as shown in the advertisements.
Negative Reviews and User Error
It's amazing just how many negative reviews this product has received from people that have tried it and found it doesn't work for them. It is expected that you would see some negative reviews from a cross-section of users because a product of this nature is not going to work for everyone. However, any time you see reviews that are stacked to one side, something must be up, whether good or bad.
In this case it's pretty obvious that No No hair remover does not work for the vast majority of people that try it. For those that do report success, these can be thought of as outliers and not taken into consideration during your own evaluation process. It is unwise to believe that you will have the same experience as an outlier, when in fact the higher likelihood is that you'll have a similar experience to the hundreds of people that said it's not worth the money, or the effort.
Final No No Hair Remover Review
Although No No hair remover states that it is based on science and not magic, it is unclear what the science is and what went wrong in the execution of putting it into the actual product. Coming up with a new scientific sounding name for a technology may do well to sell a product, but it does nothing for the actual function, and eventually leads to unsatisfied customers.
Because of the technological world that we live in it is getting more and more believable that expensive equipment used in salons can be reduced to a handheld device that can be safely used at home. Perhaps one day we'll reach this point, but that day is apparently not today. Maybe a next-generation No No hair remover will be able to live up to its many claims, but the ones on the market today do not.
Our Recommendation
Unfortunately, we can't recommend the No No hair remover, although we must admit we'd like to. It seems like it should work, it has a feasible system, but the follow-through just isn't there. We also desperately want to lose our unwanted body hair, and we will keep our ear to the ground, and our eyes peeled for any new product that's coming out on the horizon that shows any amount of promise.
If you want to hear more customer feedback on this product, check out the No No Hair Remover reviews on Amazon.
What do you think? Does No No Hair Remover work or not?