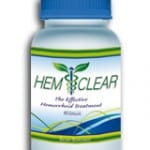 Anyone that's had hemorrhoids for any period of time has probably wondered if HemClear really works as well as they claim. There are so many different pills, ointments, drugs, and opinions out there claim to know what is causing the problem, and how to fix it. It's hard to separate the good from the bad and downright ugly. So does HemClear work or not?
Overview
The reason there are so many products vying for hemorrhoid relief supremacy is because the market is usually desperate for relief, making the sales process quick and easy. Also, as baby boomers age there will be more and more cases of hemorrhoids popping up, meaning that the demand will continue to grow, so it is in their best interest to secure as much market share now, for continued growth.
The Claim
HemClear doesn't make any outlandish claims, other than being able to cure your hemorrhoid problem within one week. However, if you delve a little deeper, you see that they recommend at least 2 weeks of treatment, and really 4 weeks to make sure it's totally gone. They also have recommendations for how to keep your hemorrhoids from coming back, which is nice because as we all know prevention is the best medicine.
They claim to be the leading hemorrhoid solution on the market. They also claim that their laboratory is registered with the FDA, but it is important to note that this does not mean that their product is FDA approved, just that they've registered their lab with the FDA, which basically lets the FDA know what they intend to do there.
They say that their product treats both internal and external hemorrhoids, and that because you ingest the pill the ingredients enter your bloodstream and therefore attack your problem from all angles.
They claim to ship the same day you order, which is great if you've been suffering for a while and want relief as soon as possible.
The Hype
There isn't a lot of sensationalism used at their website, and they don't have one of those cheesy made for TV ads that are notorious for products like these. They are also not just a downloadable ebook that promises to offer some sort of home remedy. This makes HemClear a product that is taking a unique approach to sales, and one that goes against the grain of many popular remedies out there.
The Cost
So if HemClear is so effective at getting rid of a problem that causes so much pain, suffering, and embarrassment to so many people, it must be expensive right?
For a one month supply, which is what they recommend in order to see the best results from their product, you can expect to pay around $100. That will get you 4 bottles of HemClear plus a free bottle of HemCream, giving you both an internal and external treatment to attack it from both sides.
The Commitment
Because HemClear is internally based, all that is required is to swallow the pills. This makes the commitment level very low, as long as you follow the schedule and don't miss a dose. This is much easier than trying to apply creams, ointments, or other lotions externally.
Evaluation
The HemClear corporation does a lot of things right. They address all of the concerns that you would have when ordering something of this nature. They offer discrete shipping so you won't have to suffer from embarrassment when receiving the package at home or at work. You also won't have to buy it from a store which can be equally embarrassing.
They also list their main ingredients, and give reasons as to why they are included. This is something that many companies do not do, leaving you to wonder what is in them, and why they allegedly work.
Ingredient Breakdown
Witch Hazel Leaf & Bark – Shrinks blood vessels, is popularly used in many different hemorrhoid treatments on the market.
Horse Chestnut Seed Extract – Although the nuts themselves are slightly poisonous, the extract is apparently not and makes up much of the HemClear product. The site claims that the nuts contain aescin which is known for its anti-inflammatory properties, which would explain it.
Diosmin – Also another popular treatment for hemorrhoids.
Hesperidin – Reduces blood pressure in lab rats, but nothing conclusive found in humans yet.
Butchers Broom – Improves circulation and blood flow, also clinically proven to show positive results in treating hemorrhoids.
Cayenne – Increases blood flow. Use as a hemorrhoid treatment has not been determined.
Oat Straw – Oat has a soothing effect.
Bilberry – Mostly helps with eye function, but also contains antioxidants, so that's good.
Plantain – Can be helpful for a number of digestive disorders.
Rutin – Improves circulation and is anti-inflammatory.
Mullien Leaf – Many different medicinal uses, not specifically for hemorrhoids though.
Red Root – No medicinal benefits commonly attributed to it.
Obviously, all of these are natural ingredients, but there are others that are included in the product. However, from this list you can see that each of these is a natural product of the Earth and has been around for thousands of years. What makes HemClear unique is their proprietary blend of these products that makes it an effective treatment for hemorrhoids.
Final HemClear Review
Nearly all of the ingredients listed for the product have been shown to be effective at treating hemorrhoids, and HemClear seems to have found the right mix that works. If A, B, and C all work at fixing hemorrhoids, then A+B+C should have an even more powerful effect. Consensus has it that this works. The vast majority of users have reported success with the program.
Our Recommendation
There is no reason not to at least try HemClear. All of the information they provide checks out, and they have created a well-rounded product that seems to work in the majority of cases.
However, you may not need a treatment like HemClear to get rid of your hemorrhoids. The truth is, one of the best ways to get rid of hemorrhoids is to take a probiotic, like Align, everyday, eat plenty of fiber, and drink LOTS of water. It will make your stool softer, and your hemorrhoids will go away naturally.
If you want more information on hemorrhoids and the treatments available, visit our hemorrhoid products page.
What do you think? Does HemClear work or not?