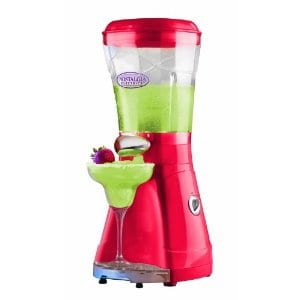 The Nostalgia Electrics Slush Maker says you can make perfectly mixed drinks. It's purposely going for a retro look, and is specifically designed to make slushies. You'd think that a machine that is designed to do one thing would be able to do it right, so let's see how well this blender stacks up and see if at-home slushies are in your near future.
Overview
Nothing beats a frozen drink when it's properly blended, and it doesn't seem like rocket science to get it done. It's basically a drink that isn't quite frozen, and isn't fully liquid. It's finding that perfect zone where it's icy cold but not ice. The Nostalgia Electrics Slush Maker has you adding salt in order to keep the drink from becoming too icy. This is our first point of contention, because adding ordinary table salt to your drink is a way to dehydrate yourself, and make you more thirsty than when you started.
The Claim
The claim of the Nostalgia Electrics Slush Maker is that you can enjoy hours of fun with delicious slush drinks anytime. We're not quite convinced about this, as users have said that you can't use the machine for more than 45 minutes without having it overheat and causing damage to the motor.
The Hype
The hype mostly comes from the fact that the Nostalgia Electrics Slush Maker is heavy on style, but light on execution. It might look like an old-school blender, but make no mistake, it's a brand new product and not an antique. The proof is that many of its parts are made of plastic, and this leads it to breaking after repeated use.
The Cost
You can pick up a Nostalgia Electrics Slush Maker for around $50, making it fall somewhere between being expensive and cheap compared to similar blenders used for making slushies. A cheaper option is the Slush Mug at around $10 each or the more expensive, yet higher quality Margaritaville Blender at over $200. More details below.
The Commitment
You have to be involved in the production of the drinks, including getting the right mix of ice, salt, and your desired beverage. They include a recipe book, but you'll still have to measure everything properly to make sure it turns out well. You also have to clean up the mess when you're done. Competing products require less commitment, so in this regard it doesn't really measure up.
What People Are Saying
The biggest complaints about the Nostalgia Electrics Slush Maker is that it's noisy. Really noisy. So if you were thinking about using it for a party, it's going to attract a lot of unwanted attention, and potentially drown out the music.
The other big complaint is that it's messy. That can really put the damper on the fun that slushed drinks are supposed to provide. Users have also said that it's not put together well, and several have said that it broke down after just a few uses. When you spend about $50 on a slushy blender, you should be getting a quality product. You can get a Ninja for twice the price, and those are known to be of high quality. Or you can get a Margaritaville blender, which have stellar reviews and can make entire pitchers of margaritas with the touch of a button.
As far as how long it takes to make an actual slushy, you're looking at the better part of half an hour, which compared to the
Slushy Magic
or
Slush Mug
is ages. The whole point of making these sort of drinks at home is that it's supposed to be quicker than getting into your car and taking a drive to the local 7-11 for a Slurpee. It has to be quicker, better tasting, and cheaper, or at least two out of three. The Nostalgia Electrics Slush Maker seems to miss the mark in regards to the quickness and taste requirements.
How Does It Stack Up?
When compared to its competition, the Nostalgia Electrics Slush Maker just doesn't measure up. It doesn't make a superior drink, and it is overpriced for what it is. It's not quite as campy as the Snoopy Sno Cone maker, but it's pretty close. This is actually a pretty competitive market, and there are several companies vying for the top spot when it comes to the best at-home slushy experience. The Nostalgia Electrics Slush Maker should be avoided, and you should go with something better, depending on what your end goal is.
Final Nostalgia Electrics Slush Maker Review
The Nostalgia Electrics Slush Maker gets a Thumbs Down review from us, based on the negative feedback it's gotten from actual users. The reviews have been mixed, so there is a chance that it will work for you just fine, but compared to other products designed to make Slurpee-style drinks, it doesn't measure up. It seems more care went into the retro design than into the manufacturing process, where they opted for low quality plastics and movable parts.
Our Recommendation
It's probably better to go with a Slush Mug if you're looking for a non-alcoholic cool down. It doesn't make a mess, doesn't require you to add salt, and doesn't take over 20 minutes to make a slushy. Or the Margaritaville Frozen Concoction makers if you're looking to make drinks for a party you're hosting. They can make entire pitchers of perfectly mixed frozen drinks just by pushing a button.
What do you think? Does the Nostalgia Electrics Slush Maker work or not?