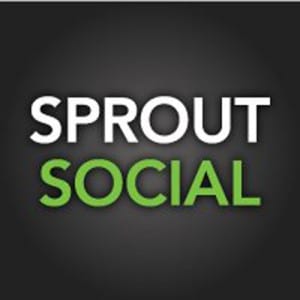 The importance of social media signals is growing, and Sprout Social promises to make it all easier to manage. Whether or not you though social networking was a fad, it seems to have hit the tipping point and now there's no denying that it's here to stay. Some of the most valuable web properties, Facebook, Twitter, Instagram, and YouTube, all rely heavily on user engagement and interactions. If your site isn't in the social sphere, you need to get it there.
Overview
Keeping track of all the different social media sites can be a real pain, and can make it not very much fun, leading to you getting fed up or burned out and not interacting with your users as much as you should. It's pretty easy to see the value of something like Sprout Social, if you've been struggling with these exact issues.
The Claim
Sprout Social claims that you can see everything you need to in one, easy-to-manage stream of wall posts, tweets, status updates, and more. They also say that you can set up posts and tweets to be published at a later time. This can come in handy because you can set up a week's worth of updates all in one day and then not have to worry about it until next week. You can also use their analytics to track what was well-received the week before and use that information to help you craft a new week's worth of updates. Over time, your message will get more and more finely tuned until it is like a laser beam, perfectly targeted toward your ideal user.
The Hype
The hype comes from this being a social media management system, and people still being on the fence as to whether this is something to spend time on, or just a waste of time. Most signs are pointing to social media as being an important factor, not only for your business directly, but also for your rankings and relevance in the search engines.
The Cost
For small sized businesses they have a $40 a month package, or you can upgrade for $60 a month for more features. All of them come with a free trial with no credit card needed to sign up, so why not try out the Deluxe package and if it has too many unused features just go with the basic package, and if you don't like it at all just don't order it when the trial is finished.
The Commitment
Even though this manages your social activity, you still have to be socially active to take full advantage of its features. It won't compose your tweets for you, be witty with your Facebook updates, or take the pictures to be shared. So you have to be involved in your social sites, and use Sprout Social to track and analyze how well those actions are serving your bottom line.
Evaluation
Sprout Social provides a clean and attractive interface that let's you establish a nice command center for your social media management. It is pretty intuitive as far as finding all of the different sites, and connecting them all to your master account. Once you've got everything synced up, you can do all sorts of things like publish and schedule posts, all from one website. The thing we like most is their analytics, which finally let you see how well your time is being spent. It also gives you an insight into what works and what doesn't.
Finally you can get a window into what your customers think is funny, and what they think is interesting. This data is priceless and can literally point you down the path of more sales, better user engagement, and help you establish lifelong customers and rabid fans. If you've read the article on getting 1000 true fans, this will definitely help you get there, and keep them happy once you do.
Final Sprout Social Review
Sprout Social is doing a lot of things right, and gets our Thumbs Up review. It can be overwhelming trying to keep track of all of the different social media sites. In addition, without this there isn't a good way to track, and even chart how well your different social pages are doing. This gives you a visual display of which areas need help, which tweets and updates are getting the best response, and allows you to tailor your efforts according to what your audience likes.
This takes away the guesswork and let's you be more effective, and waste less time on posts that don't get the response you wanted. Before you were just shooting blindly, putting up posts and updates that you yourself found funny or interesting. Now you can tailor it to your target market's tastes and interests, and gauge the effectiveness all in real time.
Our Recommendation
We love free trials with no credit card needed, and recommend this free trial fully. There's no better way to find out if it's something that your business needs unless you just take it for a test drive and put it through it's paces. What we do recommend, however, is getting your social game up to snuff before trying it out. If you don't have any social activity to monitor, it's not going to be something that's worth even trying. If you don't already have a Facebook fan page, a Twitter page, or a YouTube channel, get those set up first, and then start your trial so you can see how it tracks your efforts.
What do you think? Does Sprout Social work or not?