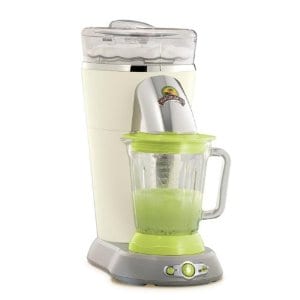 Whether or not you want to be wasted away again, you might be considering the Margaritaville blenders for the ultimate slushed beverage experience. They call them Frozen Concoctions, which leaves the door wide open to all sorts of drinks you can cook up at home, using your own ingredients, or some of the pre-mixed beverages they also have available. The question remains, does this blender really provide you with a properly blended drink, or are you better off going with a different one?
Overview
Who doesn't like a frozen margarita or other mixed drink when it's well-made, and a hot sunny day, and when you're of legal age? It should have that perfect consistency where it's not too watery, and not too frozen. This can be hard because of the alcohol, which can melt the ice pretty quickly unless you use a chilled glass. Getting them to taste just right can be hard, even for a professional bartender. But the folks behind the Margaritaville blenders say they've got it down to a science.
The Claim
They say that you can make margaritas, daiquiris, smoothies, and mudslides, all from the same machine. It's basically a party station, because it can make drinks a pitcher at a time if needed. It's also a way for you to look like you know what you're doing, even if you don't, because the machine does all the mixing for you. All you have to do is fill it up with ice and ingredients and hit the button. A perfect drink should come out of the dispenser.
The Hype
The hype comes from this sounding like it's so much fun to use. Anyone would love to be the life of the party, operating this and providing consistently delicious drinks all night, just like at a poolside bar or on an exotic vacation.
The Cost
There are many different models, each with their own features and price. One example is the Bahamas model, it is priced at $200 and can make an entire pitcher of margaritas at the push of a button. Another example is the Fiji model, which is $350 and is able to make all sorts of different drinks, with different consistencies.
The Commitment
The biggest commitment seems to be the price. The prices are pretty high for a blender with such a pre-determined use. If you can get over that hurdle, there's not much more for you to do, because Margaritaville blenders are meant to be used with the push of a button. You just load the ice in the ice bin, add the ingredients to the reservoir, and the machine knows what ice/ingredient ratio to mix together to get the perfect blended drink.
Evaluation
The reviews for the Margaritaville blenders are off the charts. It's one of the most positively reviewed products we've ever seen, and we've seen hundreds of different products, and analyzed hundreds of different reviews.
We can see why they refer to these as Frozen Concoction Makers because blender just doesn't seem to do it justice. A blender makes you do a lot of the work as far as calculating the right mix of ice with ingredients. We haven't found a competing blender that comes close to offering the kind of precision you get with these.
Our favorite model is the Explorer because it doesn't have a cord, which lets you be super creative when it comes to placing your beverage station. By putting it at the center of a room, you can avoid a long line up of people by the bar, and make things more open to mingling while people are waiting for their drink.
Final Margaritaville Blenders Review
The Margaritaville blenders are just awesome. Being able to blend an entire pitcher of drinks with one push of the button is ingenious. Making drinks one at a time just isn't feasible, especially for a party. So unless you have an industrial sized blender, this is the way to go. It doesn't just try to crush up the ice either, it uses a shaving system so you don't get bunch of crunchy ice bits, you get a smooth, perfectly mixed drink from start to finish.
They get our Thumbs Up rating, especially if you like to host parties. Even if you just like to have small get-togethers at your home, this is a great thing to have for summertime events like Independence Day, or Memorial Day, or Labor Day.
Our Recommendation
Margaritaville blenders are the perfect addition to any at-home bar, but can also be used just to make yourself a nice cool refreshing drink whenever you want one. Just be careful you don't develop an alcohol problem, and make some of those drinks virgin style if you start to get carried away with it.

What do you think? Do Margaritaville Blenders work or not?