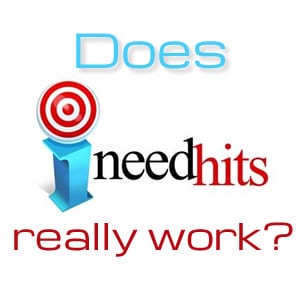 If you're a website owner you know the importance of traffic, so something like ineedhits will definitely catch your eye. They promise to be able to deliver all sorts of traffic to your site, and also can provide with backlinking services, Facebook likes on your fan page, and help you get included in the Google search results. Traffic services like this are nothing new, so lets see if ineedhits is something you should go with or not.
The Claim
They say they've served over 1 million website owners in the last 16 years. They say they can guarantee you a top 10 listing and don't charge a per click fee. They also claim to get you found in over 350 search engines. A closer look at these search engines shows that this is not such an impressive claim.
The Hype
Here is the hype: If a traffic system worked, and resulted in your business becoming successful, it wouldn't be long before everyone was using it. Traffic on its own doesn't guarantee that your site will be successful. You have to know what to do with that traffic, and how to convert it either into sales or into something that brings you value. Otherwise you'll just end up spending a lot of money for the cheap thrill of seeing your site rank on page one of Google.
The Cost
The costs start at $10 per month and can range up to $38
The Commitment
Although they want you to sign up for a monthly service no matter which package you go with, you're never under any long term commitment to use their services. However, you should be consistent with your efforts no matter what you decide to do to bring traffic to your site. If you just bring a bunch of links all at once to your site one month and then next month you don't bring any, it
Evaluation
The Top 10 listing does not mean that your site will be listed in a Google search result. Google is not included in their list of over 350 search engines. Basically all of the search engines they list aren't worth much getting listed on them. They also include sites like YahooPreferred.com on their list, which is not a working URL. So the value of this particular service is questionable at best.
They offer a lot of different ways to bring traffic to your site. They will bring 1000 visitor to your website for $10 per month. They will build links to your site for $20 per month. You can get 5000 banner impressions for $10 per month. You can also get 40 Facebook fans for $15 a month, or
Give a man a fish and you feed him once, teach him how to fish and you feed him forever. Buy buying traffic and services from ineedhits, you never learn how to be autonomous and you end up relying on others to help you with traffic whenever you need some. By teaching yourself how to bring traffic to your site, you are building a skill that you can take with you on your next site, and the one after that, and the one after that.
Also, you need to take full responsibility for everything that happens not only on your site, but also off your site that is in relation to your site. You need to be able to fully trust in what is happening to make sure you don't jeopardize your site's credibility. Getting backlinks from the wrong sources, and trying to game the system will eventually back fire sooner or later. With all of the quality updates Google has been unleashing on unsuspecting webmasters, it is an unnecessary risk to put your site in someone else's hands. If you invested the money every month in training yourself on how to bring your own traffic in, you'd have a much better site and be building skills that have real value.
If you just don't have time to learn, it's a better idea to find a single person to put in charge of your website's traffic. That way there is more accountability, and if something goes wrong you can follow the trail back to what caused it and you can make corrections going forward. When you go with something like ineedhits, it's too vague, and there will be too many people handling your site, and there will be less accountability if something goes wrong.
Final ineedhits Review
We're not saying that ineedhits doesn't work, most definitely they come through with all of their service claims. The reason they get our Thumbs Down review is that you shouldn't be using services like this to try to boost your ranking or increase your traffic. Google loves organic things, and all this does is screams that you're trying to cut corners and bend the rules.
Google is smart enough to know that you're using the ineedhits service, because it leaves a fingerprint a mile long. They know that any site that shows up on those 350 search engines is one that is paying to increase traffic. If you'll pay to increase traffic you'll probably also pay for links, and for social signals as well. Basically it's showing that you're pretty close to a spammer.
The most popular sites out there, the ones that stay in the top 10 long term, play by the rules. There may be some sites that make it to the top for a week or two, but eventually they get sorted out when the next update comes along.
Our Recommendation
With all of the Panda updates, it seems like many of their services would be quite risky. For example, Google has been cracking down on shady looking links as well as article directories, and the quality of content. This trend will only continue, as Google is trying to bring the best user experience to people that search through their many products. Take ownership of your site and don't do anything that would sully its reputation. Put your time, effort, and money into creating stellar content, and the traffic will follow.
What do you think? Does ineedhits work or not?