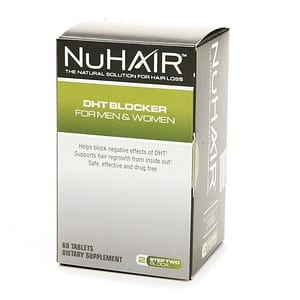 NuHair is a series of hair loss products that are designed to help you keep the hair you have, and also regrow the hair that you've lost. Perhaps you're sick of all the hair products out there claiming to solve your problems only to let you down once you try them out. It can definitely be frustrating when a product doesn't live up to expectations. But you have to keep trying or else the problem just gets worse. So is this something you should try?
Overview
Hair loss products will always be in demand until one comes along that works for everyone, every time. It's a very common problem that strikes both men and women at varying ages. It can play on the self-esteem and is one of the most common causes of a lack of confidence. That's why most people are always on the hunt for something to bring back their hair to a level they remember in their younger years.
The Claim
NuHair says that they are the number one selling supplement in America for hair loss. They claim that their product uses nutrition to nourish your hair and block the production of DHT, which will help your hair grow from the inside. They say that your hair will be stronger, thicker, and healthier.
They say that the cause of hair loss is an increase in the levels of DHT in your body which reduces the size of your hair follicles, and ends up with you losing your hair. There has been a lot of debate as to whether this is true or not, with some people saying that DHT is not the problem, and others saying that it is. If you believe that DHT is the cause, then it makes sense that something that inhibits it will help your hair grow back.
They also state that their product is safe, doesn't contain any drugs, and is effective. They're so sure of its effectiveness that they give a money back guarantee if you're not satisfied.
The Hype
The hype comes from this being in the hair loss industry, and competing with other hair loss products. There hasn't been anything to come along that lives up to all of the claims made for each person that tries it. There are just too many types of hair loss, and also too many varying degrees of severity. This means that there will always be someone that doesn't get results and ends up complaining.
The Cost
NuHair ranges in cost depending on which product to go with. They have a serum, as well as pills, and there is even a kit that you can buy that contains several different products, and sells for around $24.
The Commitment
When you're trying to regrow your hair, or at least stop it from falling out, you need to take a long-term approach to avoid frustration and disappointment. Most likely, this problem has been going on for quite some time and maybe you've treated it before with limited results, and now you're looking for something else. But you have to remember that you didn't lose your hair overnight, so you shouldn't look for quick results, and you should resolve yourself to stick it out for the duration.
As far as your daily commitment goes you'll want to take one pill twice daily with meals. They advised not to take more than this, as this will not speed up the process. They say that for best results you should take this in the morning with breakfast, and again at night with an evening snack. They openly admit that it's going to take about 3 to 4 months of continual use, and advocate using all three steps of their program, and not just individual products on their own.
Evaluation
The feedback for NuHair has been positive for the most part, with most people saying that it works for them as long as you use it until you see results. It has been noted that this might not work if DHT is not the reason for your hair loss. Some men and women suffer from alopecia that is not caused by DHT, and will not be able to be turned around by this product.
Since individual results will vary, it doesn't make much sense to size up the product based on individual reviews. You're looking more at the consensus, and in this case most people are saying that they like it and are getting results.
Final NuHair Review
If you've tried several other products with no luck, you should try NuHair and see what sort of results you get. When it comes to treating your hair loss, you have to take the approach that you're never going to stop trying. With this strategy, you take the pressure off of each individual product you try, and you lighten up about the journey. Since you're not expecting a miracle product to come along and save you, you are able to more objectively evaluate the products that you do end up trying.
Our Recommendation
We recommend giving this the old college try if you've determined that DHT is the reason for your hair loss. The product has been shown to effectively stop hair loss from happening, and also to potentially regrow hair that you've already lost. Of course it might not work for you, so it's nice to know that they have their money back guarantee in place so you're not really risking much more than your time and effort.
What do you think? Does NuHair work or not?