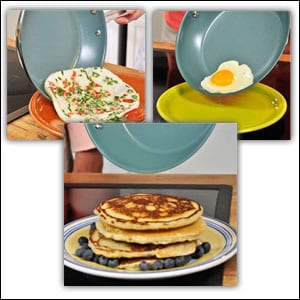 There are several different green colored pans on the market, and NuWave PerfectGreen Frying Pan is one of them. You may be familiar with the name from the NuWave Oven that is pretty popular, but how about this non-stick pan, is it any good? If you take the infomercial at face value this thing is great, nothing sticks to it and it's destined to be your new favorite friend in the kitchen. Be we all know better so let's review this a little more closely.
Overview
A frying pan is one of the most versatile kitchen tools, and no self respecting chef or wannabe chef would be caught dead without one. So many dishes require sauteing vegetables, searing meats, and stir-frying things that you can't go very long in the kitchen without one.
The Claim
They make a lot of claims via their commercial, including being able to make an egg white omelette without having it stick to the pan. This is one of the hardest things to make without experiencing some sticking to the pan, but in the ad they show it sliding right off. That's even without using oil, and they say you can cook over 1200 eggs on it, which if you ate eggs every single day would last you over 3 years.
NuWave PerfectGreen Frying Pan says it's made with 19\8/10 stainless steel and that it's diamond infused, although we find it hard to believe that any diamonds are actually included anywhere on this pan. They also say that it has a "nano-ceramic" coating and we're leery of any company that uses the buzzword of nano, as this suggests they're using a technology that works on the molecular level. Not that they couldn't, just that it would probably make the pan prohibitively expensive.
They also say it's oven safe up to 900 degrees, which is about twice what most recipes call for, but would make it good for things that require using the broiler to melt the cheese on top. Just make sure you have something like an Ove Glove in order to not burn your hand putting it in or taking it out.
They also claim that it has a stay cool handle, resists peeling, won't rust, and has a 20 year limited warranty. Can all of these claims be true for a pan at this price point?
The Hype
The hype comes from this being a kitchen product, since most people have a soft spot for anything that helps them out in the kitchen. It also comes because anyone who has ever spent any time cooking has the experience of burning things in a frying pan, or having much of their food stick to the pan, reducing how much of it makes it to the plate, which causes frustration. Frustration usually leads to buying products that hope to end that feeling.
The Cost
The NuWave PerfectGreen Frying Pan compares itself to high end frying pans costing over $100, but is available for $30 for the 9 inch size. If you order from the official site they throw in some bonuses, at one point it was a ceramic knife and some cutting mats, but it changes on occasion. You can also get a second pan just by paying the shipping on it.
The Commitment
You don't really have to change your lifestyle in order to start using the NuWave Frying Pan. Just replace you current frying pan, the one that is causing you to want to buy a new one in the first place. If you cook a lot of food at home, you won't forget to use this pan, and it won't collect dust like many kitchen gadgets do.
Evaluation
Can you really cook without using oil? You can try it, but it's best to use a little bit of oil to replicate the results in the commercial. You can use less with this pan that you would with other stainless steel pans, but about the same as you would with Teflon coated pans.
Clean up is pretty easy with this pan, as nothing much sticks to it, and if it does it doesn't get that cooked on stickiness that requires a Brillo pad on it, so you won't have to worry about scratching it in order to clean it.
It is recommended to use wooden or plastic utensils and not metal, the same as you do when you use a Teflon pan. This is so you don't scratch the surface of the pan. It doesn't contain the carcinogen PFOA like some non-stick pans do, so that's not the concern, but just so you can use the pan for as long as possible and get your money's worth.
Final NuWave PerfectGreen Frying Pan Review
We are giving the NuWave PerfectGreen Frying Pan our Thumbs Up. Every day users seem to enjoy cooking with it, and it even gets a not of approval from actual chefs that have tried it out. Of course this pan isn't a 5 star chef caliber utensil, but for the price it outdoes other pans in its price bracket, and is great for the average cook at home to get restaurant caliber results.
Our Recommendation
This is one product that is sold with the get a second one free just pay shipping schemes, but it actually makes sense. If one frying pan is good, two is even better as most recipes require multiple steps and multiple ingredients being mixed together and cooked separately before being combined. Therefore we recommend taking them up on their "offer" and getting two for a pretty fair price.
Official Website: NuWave PerfectGreen
What do you think? Does NuWave PerfectGreen Frying Pan work or not?