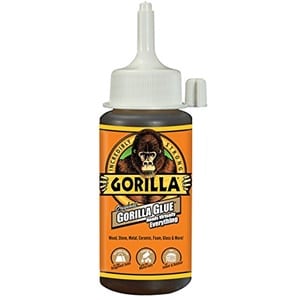 While there are many repair items that are needed around the house one that you will usually find in the home repair kit is some kind of glue. There are tons on the market which means we usually end up buying three or four different types just in case one doesn't work. There might be one type of fix all glue that can be really counted on.
Overview
The Original Gorilla Glue is classed as polyurethane waterproof glue and is in the industrial strength category.
The Claim
The company claims that the Orginal Gorilla Glue can be used on many different types of surfaces which includes wood, stone and metal and softer materials like foam as well as many others.
The Hype
The hype focuses on the sheer strength of this glue and its ability to be used in many different applications. There is the original Gorilla Glue and the Super Gorilla Glue. the Company claims that the original version cures with age and it can be stained.
The Cost
There are many different places that you can purchase the Gorilla Glue such as on Amazon and other online stores and depending on where you purchase it averages around $10.25.
The Commitment
The commitment you are going to have to make is not so much to the Original Gorilla Glue but to the size of the repair project where it is going to be used. Some jobs are bigger than others, and to really get all the benefits from this product you will need to prepare the project properly and follow the instructions.
Evaluation
Overall the feed back about the Original Gorilla Glue is generally good with some people having a few complaints. What has to be remembered is that no matter how good a glue is it's going to react differently on different surfaces according to the circumstances. It may fix one person's pair of broken glasses just great, but not work as well for someone else with a similar need. There could be a lot of variables that are present that creates this variation in results. Something that many people point out is that you must be aware of the expansion capabilities of this product and keep this in mind when using it.
Final Original Gorilla Glue Review
We are going t give the Original Gorilla Glue a Thumbs up. It has been on the market for awhile so it has basically proven itself. While it may not be 100% perfect, very few products are. It seems to make a lot of people happy and there are many that come back more than once to buy the product. Perhaps one complaint is that the nozzle gets clogged and dries up but this is a common complaint with many different types of adhesives.
Our Recommendation
We have talked about a few other adhesives in the past and one that we found particularly interesting was the Lazer Bond. Sometimes it may be a good idea to have a few adhesives on hand that have completely different qualities.
What do you think? Does the Original Gorilla Glue work or not?