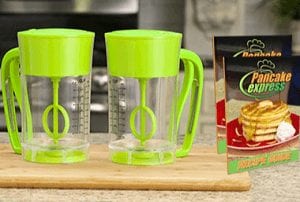 For many regions, the maple syrup has started to run and this creates a new enthusiasm for whipping up a big batch of pancakes. The only problem is this can be a messy experience and can create a lot of clean up requirements. There may be a nifty gadget that makes pancake making a great experience.
creaOverview
Pancake Express is a kitchen utensil that allows you to combine all the steps that you need for making pancakes in one easy unit.You can do your measuring, mixing, and pouring all in one container.
The Claim
The company claims that the Pancake Express is not only great for pancakes but you can easily mix other types of batter in it such as for cupcakes, crepes, waffles and muffins just to name a few.
The Hype
Whenever something makes cooking easier and easy to clean up then most people are interested. Everything can be done in the easy lightweight container of the Pancake Express.
The Cost
You will be required to pay $19.99 for the Pancake Express plus an extra $7.99 for shipping and handling. If you want to add another $7.99 to your order then you will get a second Pancake Express free.
The Commitment
One of the biggest problems we have when buying small gadgets like this is we tend to shove them in the cupboard then forget about them. You really want to commit to using the Pancake Express a few times and it may soon become one of your favorite items.
Evaluation
This really is a great idea. If you have ever made pancakes you know how messy it can be. Then there is the extra mess that is created when trying to pour just the right amount of batter. Of course, if you have any batter left over then you have to think about storing it. The great thing about the Pancake Express is that you can also store the batter in it while in the fridge. It is also dishwasher safe so that makes the clean up all the easier.
Final Pancake Express Review
We are going to give the Pancake Express a Thumbs Up rating. We're all for any way that can make this favorite food all the easier. It is convenient, lightweight, easy to store and affordable. What more could you ask for?
Our Recommendation
Don't get confused between the Pancake Express and the Over Easy Pancake Express found on Amazon. It too, by the way seems to be a pretty good product that has gathered the attention of many. It just goes to show you that there is a need for a nifty way to make pancakes.Now while this solves the problem of preparation how about some issues with the cooking of pancakes? No need to worry because we found you something that may really help with this which is the Perfect Pancake.
What do you think? Does Pancake Express work or not?