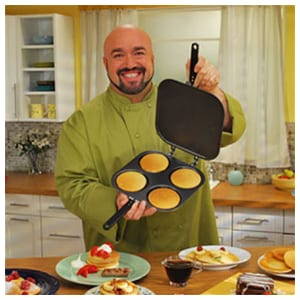 The Perfect Pancake promises to put an end to ruined pancakes, and is supposed to produce four golden brown pancakes at a time with little trouble. Before watching the promo video you probably didn't give much attention to your pancake woes, but it does a good job of creating desire and gets people asking if it really works as shown.
Overview
Pancakes are definitely not the easiest thing to make, as they require a little babysitting and there's plenty of room for error with all of the steps involved. That's why it's fun to order them from restaurants because they always get them right, golden brown and fluffy, all the same size, and all nice and hot so the butter melts good.
The Claim
They claim that the Perfect Pancake can make four perfect pancakes at once, without the need of a spatula. They also say you can make eggs in it without breaking the yolks. Clean up is a breeze because it's a non-stick surface, which also means you won't have to use a lot of butter or oil to make your pancakes, making them a healthier breakfast option.
The Hype
They may exaggerate just a bit on how hard it is to make pancakes, but many people will be able to relate to a botched flipping job, overcooking one side, not cooking it enough, or making a big mess with too much batter. The same infomercial is the reason why people are showing an interest in this, and if you didn't have a hankering for pancakes before, you will want some now as they show so many different types, including chocolate chip.
The Cost
The total for your order is going to come to $36 and will get you two sets of pancake makers. If you don't need two sets, this is a good time to go in with a friend, or gift the other unit. If you've got a big family and need to make 8 at a time, then you'll get use out of both of them. The 30 day money back guarantee doesn't include shipping, so if you don't like the results you're going to be out $16 plus return shipping costs.
The Commitment
In theory this will save you time and hassle in the kitchen, and you might find yourself making pancakes more often than you do now. With its easy clean up you won't be left scraping pancake remnants from a skillet or pan, and it's also dishwasher safe, so you can just pop it in there if you really don't want to bother with it.
Evaluation
There's a recipe book included with the Perfect Pancake so you won't be stuck making the same old pancakes all the time. They've got the classics like chocolate chip and blueberry, but also show you ideas of different fruits and other toppings so your family won't get bored. It also has recipes for things besides pancakes so you can branch out and use it for other meals as well.
It's using the same concept as a George Foreman grill, so it's cooking the pancakes on both sizes, shortening the cooking time and creating a stack of pancakes in less time than it takes you to cook one the old way. It also eliminates over-pouring problems because each pancake as their own well so they're not infringed upon by the others.
What Users Are Saying
One feature that's been touted on it is the stay-cool handle. If you've ever been burned while trying to make pancakes, you'll appreciate that the handle is always ready for action when it's time to flip. And since this isn't made out of cast iron like many skillets, it's not a bear to flip over, it's lightweight so you don't have to wrestle with it and you can flip the pancakes in one motion so they stay looking great.
It's nice that you don't have to use a lot of oil for your pancakes, since they typically get topped with things like butter, syrup, whipped cream, and other calorie-laden yummies. To get that golden brown look you might have to grease your pan a bit, but you don't have to go overboard like you do with a cast iron pan.
One drawback that there's just no solution for is the size of the pancakes it can make. You're stuck with a medium sized pancake, somewhere between a silver dollar and the size you get at a diner. But since it makes 4 at once you can make an impressive and delicious-looking stack that looks just like a recipe picture.
Final Perfect Pancake Review
The Perfect Pancake solves many of the problems inherent with making pancakes the old fashioned way, and for that it's getting our Thumbs Up review. Its simple construction leaves little room for error, and being able to flip four pancakes at once without making a mess is a nice bonus. Keep the 2nd unit if you've got a big or hungry family, or give it to a friend, at this price point it's a nice addition to the kitchen.
Our Recommendation
If you're a kitchen gadget connoisseur you're going to want this in your kitchen to have the pancake situation handled. We searched for a more reliable way to make pancakes, and couldn't find one that compares. Although we did find a unique device that's somewhat related. It makes pancake puffs, goes for $28 and is well-reviewed.
Official Website: Perfect Pancake
What do you think? Does the Perfect Pancake work or not?