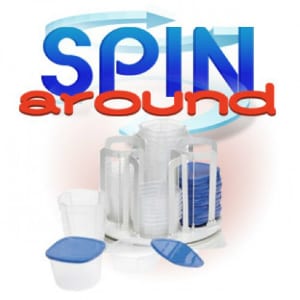 The Spin Around Organizer is making an attempt at fixing the storage problem that comes with having a lot of plastic containers and no good place to put them. We had to see whether it really functions as shown, and also whether the containers do their job.
Overview
Manufacturers have been trying to solve the plastic storage container for several years now, and it seems they haven't yet figured out how to provide reliable containers that store easily and keep food fresh. Here is a unique attempt that uses a carousel to store more in less space. They've made it so you have to use their containers in order to use this, so they not only have to get the spinning carousel right, but they have to provide containers that are airtight and can keep food fresh.
The Claim
The Spin Around Organizer is supposed to be able to hold all of your containers in one easy-to-use spot, so you don't have to go fishing through your cupboards for them, trying to find matching lids and using up more space than is necessary. The idea is simple enough, and it seems like there isn't much standing in the way of its success, but we're a little leery about the containers, since it's no easy task manufacturing a container with a good tight seal.
The Hype
The hype comes from the spinning idea, which just seems to make sense when you see it for the first time. It uses up the maximum amount of space in the smallest footprint possible. It gives it that wow factor and makes people wonder if it could actually solve their storage container dilemma.
The Cost
You can get a 49 piece set for around $20. That gets you 24 different containers in sizes ranging from 8 ounces to 24 ounces, with matching lids and the carousel to hold them all.
The Commitment
This product is promising a time and hassle savings that can't be measured. If you've ever searched in vain for the right lid, or even the right sized container, you'll appreciate that this will be a slight, albeit important boost to your quality of life.
Evaluation
The way they've designed this is to have all containers share the same size lid, so there's only four compartments on the carousel. One spot holds all 24 lids, and the other three spots hold 8 containers stacked within each other. The real question is whether the containers themselves offer the kind of storage you need when keeping foods in the fridge or cupboard. The containers come with measuring indicators on the side, which would make them easy to use in the kitchen.
But the gimmick here is the holder, not so much the containers themselves. There are more sophisticated containers that you can buy, ones that have the ability to squeeze out the air, and ones whose lids stay connected to them at all times, but they don't come with a nifty holder to keep them all at easy reach.
What we're seeing is that most of the complaints on this have to do with the containers it comes with. These include the lids not staying connected to the containers, and quality not being up to par. Compliments include the spin idea which apparently works in real life the same way it does on TV.
Final Spin Around Organizer Review
We're giving the Spin Around Organizer the Thumbs Up, because it actually does hold all of the containers, and the carousel concept is a winner. However, be aware that you won't be getting top-of-the-line storage containers with this, and there are higher quality containers that can be had, but will come with the drawback of messy storage.
It might have been better if they would have teamed up with a company that already makes good quality containers and co-developed their swiveler with pre-existing containers. That way they wouldn't have had to re-invent the wheel and would have started with one half of the equation already figured out.
Our Recommendation
If your kitchen is in dire need of some organization, we'd recommend going with these, but if you need function over form we'd go with higher quality containers like OXO Good Grips and figure out a good way to store them.
What do you think? Does Spin Around Organizer work or not?