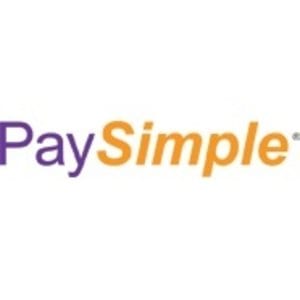 If you've got a small but growing business you're probably wondering if PaySimple is what you should go with for your merchant account needs. There are plenty of options, so you're not short on choice, but it can be time-consuming and frustrating going through them all, especially if you don't choose the right one and have to start the process all over again.
Overview
Accepting credit cards is easy enough to set up with sites like PayPal and CCBill, but if you need a solution to accept eChecks and ACH transactions, you'll want to get a full fledged merchant account. The only problem is, many of the ones that are out there aren't exactly the easiest things to get started with and to use. The promise of PaySimple is that they have a friendly user interface, so you don't have to fumble your way around it, costing you time and potentially money.
The Claim
They say that this is the "easiest way to get paid faster", and that you can not only accept payments, but you can set up automatic billing for your customers, and also manage them with this software. They don't make too many big and bold claims, which is nice. They basically just list what they can do, and it's up to you to see the value in it for your business.
The Cost
It's $35 a month plus the fees associated with each transaction. This is their best package, and is basically the only one they offer that comes with all of the features. They offer a smaller package at $11 but it doesn't really do much, whereas the Pro package does everything, and is all you'd ever need going forward.
The Commitment
Even though they boast about how easy their system is to use, you're still going to have to spend some hours getting used to it, and exploring all of its different features. When it comes to collecting payments, you're talking about the cashflow of your business, so it's worth the time it takes to learn how to maximize what it is you're paying for here.
Evaluation
Having a service like this that is basically in the cloud and lets you log in securely from any computer is nice. Rather than having to set everything up at your office computer, it's nice to be able to log in and check how your business is doing from just about anywhere.
There's also a wealth of information provided about how to incorporate the PaySimple service into your business. It is a good use of your time to learn about all they can do for you, and there are even lots of tips on how to streamline how your business takes in orders.
Perhaps the best way to get an idea of whether or not you'll jive with their software is to try out the demo and review the features for yourself. It basically allows you to play around with the different transactions and you can see how the interface is laid out. You'll be able to know pretty quickly if this is something that your business would benefit from.
Final PaySimple Review
For this review we're giving PaySimple our Thumbs Up rating, citing ease of use, ease of getting started, and cost. At this price point there aren't a lot of other merchant accounts or payment processing systems that offer as many features, but keep it easy to use. There's also the matter of support. There are plenty of merchant accounts out there that have horrible support, but the folks at PaySimple seem to know this and they make it a point to highlight their service and support as being top-notch.
This is an important decision to make because what you don't want is to get all set up with one provider, and then find out that you need to change to a different provider after a few months or so. Take the time to get it right at the beginning and find something that you can use long-term. We like that there aren't a bunch of different tiers like you find with other systems. There's basically just one package that serves the needs of most small to medium sized businesses. If your business skyrockets and you turn into the next tycoon, you'll have to upgrade your system anyway, but this one can scale to fit most owner's needs.
Our Recommendation
If your business needs a payment processing solution, you should look into PaySimple and compare it to other systems that have caught your eye. They don't have a free trial, so be sure to play around with the demo for a bit and see if it's something that will do the trick for your specific business. There's no way to make a blanket statement about what will work for every small business, as they're all unique in what they need and what will work for them.
What do you think? Does PaySimple work or not?