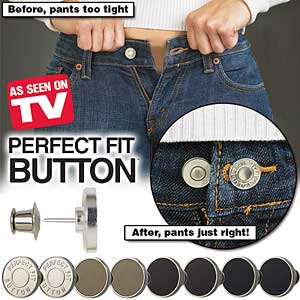 All of us have struggled at one point or another to get into a pair of jeans or pants, but is the Perfect Fit Button the answer? It's designed to replace your existing button, expanding the waistline of your pants so that you can fit without straining to breath. But how well does it work>
Overview
When you buy a pair of pants, they typically fit the day you get them. Over time you might outgrow them, either due to holiday eating, or just getting older and having your metabolism slow down. On the flip side, it can be rather expensive when you lose weight, because all of your clothes will start to get baggy. You can use the Perfect Fit Button in both instances to either increase or decrease the size of your pants as needed.
The Claim
Perfect Fit Button claims to extend or reduce the waistline of your favorite jeans or other pants and allow you to fit into them again, like the day you got them. The direct claim is that you can add an inch to your pant's waist in seconds. This is often all the wiggle room we need to feel comfortable in our favorite pants again.
The Cost
You have several different ways to order, but only one that we recommend. You can go through their direct sales channel at the official site and get two sets for the price of one, by paying extra for shipping. At the end of the day your total charge will be $24, and you'll end up with a bonus show-related product of some sort.
A note on Amazon: There is a company claiming to sell the Perfect Fit Button on Amazon for a far lower price, but apparently it is not the same product. Definitely go through the official page on this one so you get the genuine article.
The ad for Perfect Fit Button:

The Commitment
If you go by their commercial, it almost seems too easy to install and replace the Perfect Fit Button. Like with all things, if it seems too good to be true, it probably is. In this case the common consensus is that it is not as hassle free to put on and take off the Perfect Fit Button. It's not impossible, just not quite as painless as they say it is.
Evaluation
There isn't a lot of inventing going on with this product, it's basically just a button with a pin on the back of it. The ingenuity that went into it would be that they designed a clasp that holds in place, but also is able to be removed easily. However, it is this feature that gets the most criticism from users. Apparently it is not easy to insert or remove from your pants. Those that had an easy time with it have rated this product an A+. Those that struggled with it had less friendly things to say about it.
Common Complaints
The biggest complaint about the Perfect Fit Button is that it's hard to remove once it's in place. Most people report needing a pair of pliers to remove it. Since they say you should take it off when you wash your pants, this can be rather annoying to have to plier your pants every laundry day. The only drawback to letting it go through the wash is that the colored piece will fall off the front of it.
Final Perfect Fit Button Review
After disregarding all of the negative feedback that refers to the ordering process, it's pretty clear that the product itself does what it says, with a few drawbacks. It's not as easy to get it on and off as they make it seem in the advertisement shown above. If you keep that in mind, you will probably be satisfied with its performance, and it could save you from costly alterations.
Our Recommendation
If you resonated with this ad, and thought this is something you'd find useful, you should be happy with it. We recommended to go through their main page, because there is a company out there that is selling a cheap knock off, which is causing confusion as to whether or not the genuine product works or not. Your total cost will come out to about $3 a button, which isn't too bad.
What do you think? Does Perfect Fit Button work or not?