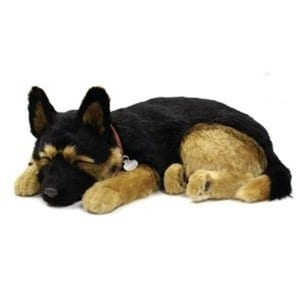 Perfect Petzzz are getting more popular by the day, and at first glance most people wonder how. It's basically a stuffed animal that gives the effect of being asleep and breathes methodically. The thought is that this could be a good pet alternative either for an older person, or a busy person, or someone that is grieving over the loss of a pet. But does this really work to fool the senses?
Overview
There's no denying that a real pet can be a hassle. The vet bills, the daily feeding and waterings, the walking, the litter box cleanings, the asking of friends to pet sit while you're away, it can all add up. Of course there's also no denying that pet ownership has its advantages, dogs can protect a home, and cats have been proven to help their owners have less stress. But can a stuffed animal that breathes come close to replicating this experience without all the negative parts?
The Claim
They say that this is the ultimate pet, and that it provides the experience of real pet ownership. We don't know if we'd go that far. It seems pretty inconceivable that someone would think for a moment or two that this is a real animal. There's no denying that they're cute stuffed animals, and it might do well to replace a pet that was lost, but not to the point where someone would think that this is a real pet. They might hug it and remember their old pet, but not think that this was really them.
The Hype
The hype is that this is basically a stuffed animal with a motorized mechanism in it that makes it look like it's breathing. It doesn't do much more than that, although many people mistakenly think it does. Also, there is some hype at the official website, because it is obviously a real dog in the picture, and the actual stuffed animal you receive will not look like that.
The Cost
Perfect Petzzz are are $30 to $40 depending on which model you go with. This includes a lifetime replacement policy which for $5 they'll send you out a new one if your old one should break for any reason.
The Commitment
There's not much you have to do to the thing, that's why it's called perfect. Compared to a real dog or cat there's no clean up, and you don't have to buy food for it or take it to the vet. There's no concern over allergies. It's really just something you can start up and forget about.
What People Are Saying
A lot of people say that they like their Perfect Petzzz and are happy with their purchase. There are more positive responses to these pets than there are negative, which means you have a stronger likelihood, statistically speaking, of being happy with your purchase. Positive responses have focused on how cute the product is, and have remarked that even though the breathing looks a little awkward at times, it's still a good buy overall.
The most common complaint from the people that give it a negative review is that all it does is breathe. Apparently they thought it did something else, or that it would move around and play or do tricks. From the name alone it tries to show you that this is just meant to be a soothing, constantly sleeping dog or cat that you can pet, or just have around the house.
Some people even called it a toy, so they are missing the point of it altogether. This is not really a toy that a child would want to play with. It's more of a fixture that you would just keep on your sofa to reenact what it's like to have a content, sleeping pet next to you. With a bit of imagination you can think of it as a real dog or cat that is so at peace they just sleep and sleep and nothing bothers them.
Final Perfect Petzzz Review
We're going to give a tentative Thumbs Up to Perfect Petzzz. Just remember that it isn't meant to do anything but sit there and breathe. It doesn't open its eyes, it doesn't roll over, it's pretty good at playing dead, but it won't shake hands. A lot of people expect more from it than what it promises, and therefore state that they're unhappy with it. But that's not really fair to the product itself, which only says it's meant to sit and "sleep".
Our Recommendation
Once you get over the creepy factor of having a fake pet that seems pretty real in your home, it's kind of nice having it there. It's nothing really amazing, just a glorified stuffed animal. If you know the score going into the game you might like it, as they are cute, and can be soothing at times.
What do you think? Does Perfect Petzzz work or not?