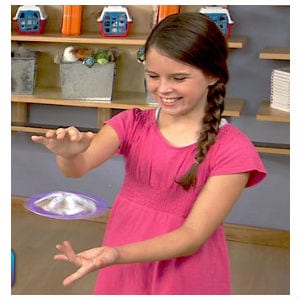 The Phantom Saucer is a magic trick incorporating the use of invisible string to make a saucer look like it's hovering in the user's hands. It is marketed as a dazzling magic trick that will amaze your friends, but how well does this actually work?
Overview
Any magic trick that has a floating or hovering aspect to it will usually be using invisible thread that can be found at magic shops or fabric stores. If you don't want to buy this trick you can find other floating magic tricks either online or at retail magic shops. At this price point you can basically buy any kit you want, since they're all reasonably priced.
The Claim
The claim by the promoters of Phantom Saucer is that it's a magic trick you can learn quickly and easily and be able to amaze your friends with. They say it comes with all of the instructions you'll need to pull off the trick, and have your friends asking "how'd you do that?".
The Hype
The reason this product is hyped is because of all of the reactions they show to the saucer act being performed. They are planting the idea that if you perform this trick you're going to be the center of attention and everyone is going to think you're great. This may be true, at least for a few minutes or so. But eventually someone will notice the string and then your moment in the sun is over. You can actually see the string in the slo-mo shots of the infomercial if you keep your eye on it.
The Cost
The Phantom Saucer is marketed at $10, plus there's $6 for shipping, so you're looking at $16 total. Right now there is a special where they'll give you $15 towards your next As Seen on TV purchase, so you'd essentially be getting this for about $1 but you'd have to buy a different product from the same company.
The Commitment
You'll have to commit to learning how to perform the trick, as it's not the easiest thing to pull off if you've never performed a magic trick before. It's true sleight of hand because you have to do certain movements with your other hands as well as your own body language to get the audience to look where you want them to and convince them that it really is floating and not simply hanging from your hand.
Evaluation
Levitating things such as tissue paper, dollar bills, and more has been a staple magic trick for decades. It's fun to see it in real life if you've never seen it before, but once you learn the trick it's really not all that impressive. In the video they show the kids taking turns performing the trick, but in order for that to happen you'd have to show them how it really works. The saucer does not actually float on its own, so anyone performing the trick is going to have a string tied to their finger or otherwise attached to their hand in some fashion.
It's always good to set reasonable expectations on a product like this. You're basically buying a cheap plastic saucer and some invisible string. This likely cost the company a few dollars to make, if that. You're also getting a DVD that shows you how to work the trick. Essentially though you can make your own trick by floating a dollar bill using an invisible string, and only pay a dollar or so to buy the string. But if you want to upgrade to a saucer and have the trick look a bit cooler and more complex you should go with this.
Final Phantom Saucer Review
The Phantom Saucer is getting our Thumbs Up rating, because it actually is a pretty solid magic trick once you know how to do it. If you want to keep the trick a secret don't show anyone else how to do it and you can leave them guessing. But if you show them how it works you won't be able to perform it again to the same group of people since they'll know how it works. This can be fun if you've got a family reunion and you want to impress the grandkids for a few minutes, or if you've got a birthday party that's coming up, or if you are an aspiring magician and want to start practicing your skills.
Our Recommendation
With the special they have this can essentially be a free item for you, especially if there is another Telebrands product you've had your eye on. Getting the $15 credit on a $16 item isn't a bad way to go, and there are some good products that you can apply the credit towards, essentially getting a really cheap magic trick.
What do you think? Does Phantom Saucer work or not?