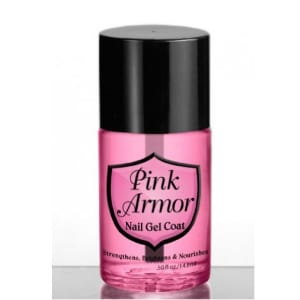 Pink Armor Nail Gel promises longer, healthier, and stronger nails, and says you won't break your nails anymore. It would be great if there were a product that you could simply apply once and then forget about for the rest of the week. That is of course if it actually works. Let's check it out and see if it's a good deal or not.
Overview
For some of us it can be really hard keeping our nails looking tip-top. It seems as soon as you get them done it's only a matter of time before they're chipped or broken. Nail strengtheners work to some degree, but if you don't keep reapplying them they aren't very effective. It's also hard to remember to reapply them, which means the results take longer to appear.
Some of them are also made with harsh chemicals so it can be a mixed blessing. The product they have here seems to fix those problems by only requiring a once a week treatment, and only needing one coat. This means that the product would last longer and you wouldn't have to use as much to get the job done.
The Claim
The creators of Pink Armor Nail Gel say that it your nails won't chip, they won't peel, and they won't crack when you use it. They say you can get the same kind of results that you'd get from the salon, without having to pay salon prices. They say you only need to put on one coat, once per week in order to get the results they show in the infomercial.
The Hype
There is an accompanying infomercial that provides much of the hype surrounding these. They're also trumping them up by saying that you can get salon-quality results at home on your own.
The Cost
The total cost of your order comes to $25, which takes the initial price of $10 and adds $7 shipping for the first set, another $7 for the second set, and something we've never seen before, an extra dollar as an Electronic Processing Fee. The bonus on here can be overlooked, since the nail kits they send are likely very cheaply made overseas and are simply trying to add perceived value. Even if you simply consider that it's $12.50 per bottle it's still not a bad deal.
The Commitment
Since you're only supposed to have to use this once a week for best results, the commitment level is rather low, and the payoff is rather high. If you can have strong beautiful nails with just one weekly treatment it would definitely be worth the price. It could reduce the time you spend doing your nails, or fixing your nails, or even going to the salon to get them done.
Evaluation
When considering a product like this there are a few things that you have to compare it against. The first is doing nothing. Is it really going to provide better results than you've been getting by not attending to the problem? The next thing you have to look at is whether it performs better than other similarly priced products that it's competing against. And the third thing you have to decide is whether it can live up to the promises that it makes, or whether it is simply over-hyping the features in an attempt to make a sale.
What we're seeing here is that they aren't making too many outrageous claims, and the idea of strengthening nails is not exactly a groundbreaking concept. Nail strengthening solutions have been around for several decades. They say that this is using a protein-rich keratin gel in order to provide the stated benefits. It's well-established that keratin is good for nails, so the question then becomes whether they're using a high grade of keratin in order for it to be so effective.
We found a competing product that gets really good reviews and is priced similarly. IT's OPI Original Nail Envy Nail, which sells for $27 but gives you 50% more product. Almost everyone that tried it gives it 5 stars. It's important to note that you can't return the items once you open them and use them, since they aren't able to be resold. But at least you have user feedback to base your decision off of, and you're not going in blind.
Final Pink Armor Nail Gel Review
We're giving the Pink Armor Nail Gel a Risky Try rating. This is because their 30 day money back guarantee is only on the price of the product. If it does what it says you'd be on your way to stronger, healthier nails at a decent price. But if it doesn't live up to its claims you're going to be out $15 plus return shipping charges. That means you're shouldering a lot of the risk here, and there's really no way that the manufacturer can lose, because no matter what they're going to make $15 less actual shipping charges and product costs.
Our Recommendation
If you haven't been able to find a nail strengthener that works for you, it may be worth taking a chance on this, or you can try to buy a similar product that offers the same type of benefits but for a lower cost, or less upfront risk. They could easily fix the glitch here by offering the product for $20 plus $5 shipping so that their money-back guarantee actually means something, but as it stands it's not a consumer-friendly offer, and we recommend taking a pass on it.
Read user reviews on Pink Armor Nail Gel
What do you think? Does Pink Armor Nail Gel work or not?