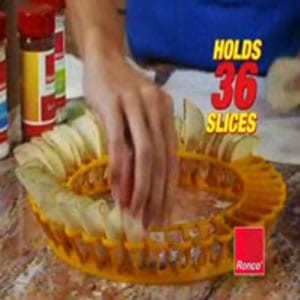 The Chip-Tastic kit is a way to make potato chips from scratch just using regular potatoes and your microwave. The premise is you'll avoid eating fatty pre-packaged chips but still be able to get a similar taste to satisfy your cravings. So let's see how well it lives up to its claims.
Overview
It's hard not to like potato chips. They're crunchy, they're salty, they're potato-y. They make a great side to a sandwich, or a great snack for the big game. The only problem is that it's hard to stop eating them once you start, and they're loaded with fat from all of the oil they're fried in. Many of us don't associate them with other fried foods like french fries or fried chicken, but they're dunked in the same oil to cook, and so they're just as bad for you.
The Claim
The makers of the Chip-Tastic system say that you'll be able to make healthy chips that taste just as good as store bought chips, without the guilt associated with eating them. The secret is that you skip out on the frying and simply put them in the microwave to cook them up nice and crispy without having to resort to all of that oil.
The Hype
This is made by the Ronco corporation, the same company with such hits under their belt as the Ronco Rotisserie grill, so they are bringing a long history of know-how when it comes to As Seen on TV products for the kitchen.
The Cost
The total offer comes to $28 which includes shipping, two of the rings that go in the microwave to cook the chips, the slicer that gets them so thin, and flavor packets so you aren't stuck making the same plain chips. They also include a recipe booklet so you have ideas on how to make different flavors. It's backed by a 30 day guarantee, and since the shipping is only $8 you'll end up getting the $20 back, and just be out the additional return shipping costs.
The Commitment
This is going to require more commitment than simply buying a bag of chips from the store, opening them, and digging in. But the sweat equity you put into these chips should pay dividends in your waistline. They say that it only takes 3 minutes in the microwave, so once you get your system down you should be able to have hot chips ready in just about 5 minutes or so. That means it would be very convenient for those times when you want a quick snack and you're ready to eat just about anything.
Evaluation
They really have thought of everything when it comes to getting you to be able to create your own potato chips. By including the slicer that helps you to get the potatoes sliced nice and thin there isn't really anything stopping you from replicating the kind of results you see in the promo video. Just be sure to have seasoning on hand, or the chips might taste a little bland. This is really easy to do, and just requires a trip to the seasoning aisle at the store unless you have some suitable ingredients. To keep these on the healthy side, considering using sea salt instead of table salt.
A bag of good potato chips at the store is around $4. You'd have to use this 7 times in order to get your money's worth, and that doesn't include the cost of the potatoes, which is often negligible. This means that if you only use it a few times and then forget about it, or don't like the results you're getting it would have to go down as a dud. But if it's something that you enjoy and are getting good results from, it can pay for itself many times over, and help you stick to your diet plan if you're always tempted away from it by chips and other junk food.
There is also the fact that you're nuking these, and there is some concern with eating foods that have been irradiated by a microwave. Be sure to understand that these might not be as healthy as say baking some sliced potatoes to make yourself some seasoned french fries.
Final Chip-Tastic Review
The Chip-Tastic system is getting our Solid Try rating. Because it has a money back guarantee behind it and is from Ronco there is less likelihood that it won't work as shown, and a good chance at getting you're money back if you're not happy.
Our Recommendation
If you're addicted to spuds this might be something that you'd get enough use out of to justify the price. If you were just fascinated by the idea of making chips using the microwave, you might want to pass on it. It probably won't make you up your chip intake enough to make it worth the expenditure.
What do you think? Does Chip-Tastic work or not?