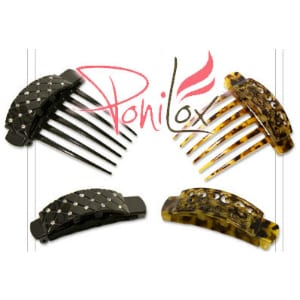 PoniLox says that it is the only pivoting hair comb out there that can give you the upper hand on creating stylish up-dos. Getting your hair to look good while it is up is a challenge that many of us face each day as we get ready for work, exercising, or just spending a casual day at home. But can a little clip like this really you do the trick and keep your hair up without causing a lot of problems?
Overview
There many of these sort of gadgets and clips on the market all designed to help with hairstyles, and replace things like scrunchies, claw clips, and rubber bands. This is because women's fashion and beauty products are big business, and companies know that if they can win over the female population on an invention that helps with styling your hair, they will sell a million units and be sipping piña coladas in the Caribbean in no time.
The Claim
PoniLox claims that you won't get any more ponytail headaches from ineffective hair clips like claw clips and scrunchies. This is because it doesn't require that you lock your hair down in a tight and uncomfortable way. They say that it is made out of durable plastic, so you don't have to worry about it breaking, or coming undone. They also say that it works whether you want to have a high ponytail look, or a low ponytail look. They also say that you can save money by using it, because you won't have to go to the salon and pay for expensive hairstyles anymore.
The Hype
When it comes to products that deal with fashion and beauty, there is always a little bit of hype. That's especially true when you're talking about hair. The styles they show on the infomercial look great, but how can you be sure that you will be able to pull off the same sort of styles when you get this home? Of course, they will include a style guide so that they will teach you how to construct the different styles, but it is still up to you to be able to pull it off. You might not be able to replicate the exact perfect styles that they do in the promo video.
The Cost
PoniLox is $29 for a double order. This gets you two PoniLox, one black and one tortoise filigree and two matching PoniClips. This is all you need to pull of the styles they show. You may not really need 2 sets, but you could keep one set at home and another in your car or at the office so you have them handy in a pinch. You could also give the other set to a friend, or just keep it in case they break. They're not supposed to break, but you know how that goes, it's always best to play it safe and have a backup.
The Commitment
When you consider the fact that you're going to style your hair every day anyway, this should represent a reduction in your commitment level, because you won't have to fuss with it as much. Plus, it should stay in place much better than conventional methods, and this can be really nice because you won't have to go to the bathroom so often to check to make sure that your hair still looks good. It might take a little bit of time to figure out the best way to use this, and become adept at the different styles, but once you do, you should be able to whip up something nice pretty easily and quickly.
Evaluation
PoniLox may look like an ordinary hair clip, but the secret is in its patented pivoting feature, which gives it the ability to move with your head and hair, and also keep it all in place. Static clips tend to break if they come under too much pressure, because they aren't able to adjust with your different head movements. That's why you end up getting a headache with other methods because you have to keep the hair pulled back so tightly so that everything moves as a cohesive unit. With this there is some play, some wiggle room that keeps it in place, but able to move with you.
Final PoniLox Review
PoniLox is getting our Solid Try rating. If you tend to struggle when coming up with a hairstyle that gets your hair up and keeps it up, this is something you'll want to have in your getting ready arsenal. It's all about having a lot of go-to styles at your disposal, and this is nice to have when you are going out, or in need of a style that puts your hair up, like a formal event, or even just going to work and not having to fuss with your hair once you're there.
Our Recommendation
There have been a lot of hair clips coming out recently that are all decide to help with your hair. They all make a villain out of claw clips and hair ties, so there appears to be a common enemy. The only question remaining is which of these new hair clips will actually do the job. If you are considering these, you should also take a look at Twist 'N Clip to decide which one to go with, or get both of them and do a comparison test at home to see which you like best.
What do you think? Does PoniLox work or not?