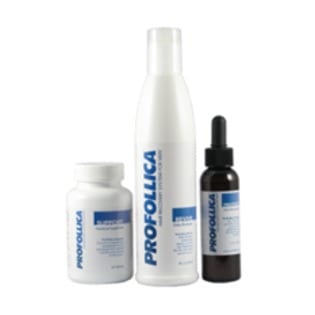 With so much misinformation out there, it's hard to get an accurate read on whether Profollica works or not. We have sifted through the rubble and found the real information you need to be able to make an informed decision.
What It Is
Profollica is a two-part system that uses naturally-found ingredients that target your DHT levels. By taking a daily supplement and following up in the shower with a gel, it is designed to both nourish your hair on the outside and solve the DHT problem from the inside.
The Two Sides
You can either go pharmaceutical, or you can go small-time when it comes to helping your hair grow back, or at least stopping its demise. The big pharma companies out there have got things pretty much tied up as far as Rogaine and Propecia go, but there are a ton of small to medium-sized companies out there that are trying to claim their share of the market. There is room for both, because there are some serious drawbacks to using prescription medications.
Some of the biggest reasons to avoid a drug for your hair loss are the negative side effects associated with them. Many of these side effects are sexually based, and can include things as severe as impotence and erectile dysfunction. That's why it's important to make a decision based on all of the facts, and not just rush out there and start popping pills or rubbing harmful products onto your scalp.
By using a product that is naturally based, you not only provide nourishment to your hair, you avoid the harmful side effects from drugs that get released to the public too soon. The only question is, are these herbal based treatments as effective as medicine?
The Claim
Profollica claims that if you use their product you will help slow, stop, or even reverse your hair loss. They say that by lowering the amount of DHT that your body produces your hair problem will improve greatly. The system works, they say, with a combination of a daily herbal supplement, and an activator gel that is applied directly to the scalp.
The herbal supplement contains amino acids, proteins, nutrients, & enzymes that are designed to help curb your production of DHT, but they also claim that these help neutralize other aspects such as a poor diet, high amounts of stress, feelings of depression, and even getting sick.
The activator gel is designed to stop DHT from forming in the first place, and is massaged onto your hair after you're done shampooing.
Is DHT to Blame?
Many hair loss companies will explain that it is your body's overproduction of DHT that is causing your hair loss, and that their products help remove this excess from your scalp, allowing your hair to grow like normal. The consensus is that DHT is a contributing factor to male pattern baldness, but that there are many reasons it can occur, and you should find out what exactly is causing your specific condition to find the right solution for you.
The Cost
Profollica is $80 if you order a one month supply shipped as cheaply as possible, but you can get the price down to $50 per month if you order a 6 month supply or more. They have a 60 day guarantee that says if you can't see the results – not feel, see – then return it for a full refund less shipping and handling.
Can't Trust Profollica "Review" Sites
There are many Profollica review sites out there, but the majority are phony. A true review site is meant to provide a fair and unbiased review of the product in question. One "review" site even features a video with a shill of the Profollica company explaining how it works.
This makes it harder to get accurate information about the system, and to read about what it really contains. It also makes it nearly impossible to find reliable reviews from real users that have tried it and are being honest about the results. Luckily with a little perseverance and diligence the real feedback is there and in this instance it appears to be solid. You're never going to appease everyone out there with a hair loss product because there are so many varying degrees of hair loss, causes of it, and lifestyles that nothing works well for everyone, not even Rogaine.
Profollica FAQ
With so much sketchy info out there for Profollica, we felt it was our duty to answer some of the most common questions about it. If you have further questions please ask them in the comment below and we'll do our best to get to them.
Is Profollica FDA approved?
The FDA doesn't approve all-natural products such as this one. The best a company like this can do is get their facilities registered with the FDA so that there is some assurance that their manufacturing process is adhering to some form of best practices.
Can women use Profollica?
This is a formula that is made for men, and is made specifically for the problems that men face when it comes to hair loss. You may have seen many products out there that say that they're OK for both men and women, and still others that have two different formulations for both men and women. This one, however, is just for men.
Can you trust Profollica before and after pics?
There are before and after pictures on their official site, and you may have also seen supposed users posting their results on forums and message boards. These sort of pictures should always be taken with a grain of salt, because you never really know what the ulterior motives are of those that post these sort of pictures. Also, the company is trying to sell you the product, so it's not as if they're going to put before and after shots unless it's showing signs of working. Whether or not these images have been doctored or retouched is hard to determine.
Is Profollica a scam?
A scam typically entails a completely bogus product, or no product at all, or shenanigans with the ordering process. Since plenty of people have successfully purchased this and have reported good results with it, and since there's a 60 day money back guarantee in place, we're going to say it is not a scam.
Can you buy Profollica in stores?
We were unable to determine if you can buy it at local retailers, it appears that you can't. The closest thing we could find is that it's available at Amazon for $90 with free shipping.
Are there side effects with Profollica?
The company claims that there have been no reported side effects. This doesn't mean that no one has ever reacted negatively to it, it simply means they didn't bother to report it to them. Just because a product uses natural sources for it's ingredients doesn't mean that there will be no side effects as a result. Compared to the list of side effects that come with pharmaceutical hair loss treatments it would definitely have less.
Is Profollica safe?
The use of all-natural ingredients makes it less likely that this product will harm your hair or scalp, but that doesn't cut out all possibility that you'll have a reaction to it. There are no long term studies that have been conducted on it, so it's unclear what the result would be to use this for several months or years.
How do you apply Profollica?
First you use the included shampoo the same way that you'd use ordinary shampoo. This is meant to revive your scalp and follicles. Then you massage in the gel that comes with the kit, but you don't wash it out or rinse it out. You leave it in and let it dry. It stays on your scalp and does its thing.
Are there any Profollica complaints?
While we did notice that some users were not happy with the results they received, we didn't really see anything in the way of complaints, such as poor customer service or causing their hair loss to worsen. With some hair loss products out there we've seen legitimate complaints, like burning scalps, additional hair loss, or lousy customer service in the case of a return. But this is not the case here.
Where can I find a Profollica coupon?
The coupons that are available for Profollica involve savings on bulk orders. If you do choose to buy it, we recommend going with a smaller package so that you're only getting a 60 day supply. That way you'll have less to pay for return shipping costs if you don't like it.
Final Profollica Review
Profollica appears to be doing everything right when it comes to producing a quality product to a hungry market. Any system that uses multiple steps, and works from both the inside and the outside is a solid attempt. They don't make many outlandish claims like you'll be able to have a full head of hair in 2 weeks, and with their 60 day time frame they have faith that you'll see some results in a rather short period of time.
Our Recommendation
We recommend going with an all-natural hair loss solution, and Profollica is a serious contender in marketplace filled with flops. They rely almost entirely on blocking DHT, so if you go with this make sure that you're taking more of a comprehensive approach. With their guarantee in place it doesn't hurt to try it, and get your own opinion of whether or not it works. You'll just be out the shipping and handling charges if you return it within 60 days.
Official Website: Profollica
What do you think? Does Profollica work or not?