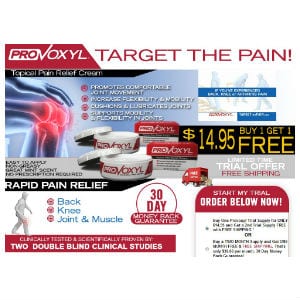 Provoxyl is a pain reliever that is supposed to work on joint pain by increasing the amount of fluid being sent to the joints by the body. If it lives up to its claims it could spell relief for millions of sufferers out there, so let's see what real users are saying about how well it works.
Overview
Joint pain and stiffness can really put a hamper on your day, and can make it so you don't even want to do your regular daily activities. When it starts eating away at your favorite things to do you know it's time to find a solution that you can rely on every time pain flares up.
The Claim
The makers of Provoxyl claim that their product promotes health motion of the joints and helps you increase your mobility and flexibility. They say that it's easy to apply, and that it has a non-greasy formula so after you rub it in you won't be left feeling all slimey. They say it provides rapid pain relief where you need it most, and cite the three most common areas for pain, the back, the knees, and other joints and muscles.
The Hype
They are gunning for the market that is experiencing back, knee, and arthritis pain, and as the American population ages due to the baby boomer generation we'll likely see plenty more products of this kind. The market is just too big, and pain is such a motivator that it's relatively easy to make a sale on a pain relieving product as long as it shows that it might be able to work well.
The Cost
Provoxyl is sold on a trial then subscription setup. This means that you pay $15 and they'll send you two trial sized tubs. Then they'll send you a larger tub after your trial period is up for $60 and will continue to do so monthly until you cancel your subscription. This might sound a bit pricey, which is likely why they're selling this on a trial basis. They're pretty confident that if you try it you'll see the value of keeping on with it at the higher price point. And $60 a month for topical pain relief right where you need it, without using drugs would be worth it.
The Commitment
Since this is applied right onto the body part that is hurting, you don't need to take any pills, which is nice, especially if you're already taking other medication and don't want to worry about drug interactions.
Evaluation
Provoxyl doesn't list their ingredients, and doesn't go into great detail about why it works or what it's made out of. They refer to two double blind studies, but they do not provide links or downloadable PDFs so that consumers can have a more detailed look at what these studies actually entailed, who it was funded by, what sort of sample group it used, and what sort of dose the participants were using. Pain is such a subjective experience that it's always hard to get a group of participants all with the same sort of pain and to the same degree to get an objective observation.
They don't list how long the trial period is on their website, so we called customer service to find out. They had to put us on hold to get the information. Seems like that would be something they would know off the top of their heads. It's important when taking a trial offer to know what you're getting into. You don't want to accept a trial offer without knowing how long you have to evaluate the product. They came back with the response that it is two weeks. So if you want to successfully try this you'll need to mark your calander and be sure to call and cancel before they send you your next batch to avoid any further hassle.
Final Provoxyl Review
Provoxyl is getting our Try rating, as their product seems poised to provide relief, and they have friendly customer service reps that are able to answer questions without being too salesy. The trial supply is enough to get you through the two week trial period, and because it's supposed to provide instant relieve you can make the determination on whether to keep it and get some more after you try it out first hand.
Our Recommendation
A lot of the times we see companies that set the pricing so that you can't return a product for a refund because you won't get the shipping charges back. Here they're willing to send you the product with free shipping so you can try it before investing a lot or risking much of anything. They clearly list their customer service number and it's easy enough to get ahold of them and make any changes to your order.
What do you think? Does Provoxyl work or not?